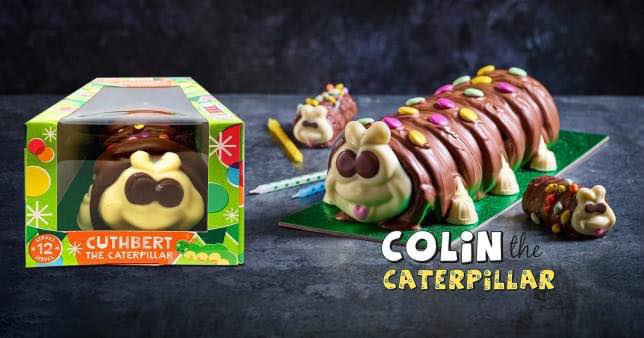 M&S Launches Intellectual Property Claim Against Aldi Over Colin The Caterpillar 'Clone'.
Caterpillar Wars!
Marks & Spencer has launched an intellectual property claim against supermarket giant Aldi, citing alleged similarities between its Colin the Caterpillar cake with Aldi's Cuthbert the Caterpillar.
M&S, which lodged the claim with the High Court this week, is arguing that the similarity of Aldi's product leads consumers to believe they are of the same standard and "ride on the coat-tails" of M&S's reputation with the product.
M&S is asking the court to force Aldi to remove the product from sale and agree not to sell anything similar in the future. An M&S spokesperson said: "Because we know the M&S brand is special to our customers and they expect only the very best from us, love and care goes into every M&S product on our shelves so we want to protect Colin, Connie and our reputation for freshness, quality, innovation and value."
It is understood that M&S has three different trademarks against Colin the Caterpillar. It believes Colin has a distinctive character and reputation that will ensure the courts will rule in their favour.
M&S launched Colin the Caterpillar around 30 years ago and his appearance has been largely unchanged since it first appeared in 2004, that is except for small adaptations such as events like Halloween and Christmas, and related products such as Connie the Caterpillar.
Marks And Spencer Announces Closure Of 29 Bank Branches
The bank branches are located within M&S stores, but the travel money bureaux branches, which are located in over 100 stores, are unaffected. M&S had said it aimed to redeploy branch workers where possible, but it couldn't confirm how many are at risk of redundancy due to an ongoing consultation.
M&S' current account has already closed to new customers, but it'll be available to existing customers until August 2021. The bank said it'll start contacting those customers and others who use the bank branches from today to explain their options.
Owned by a German company called Albrecht Discounts, Aldi is a discount grocery chain that started in Germany in 1948. Aldi has approximately 5,000 stores worldwide.
Source: The Journal