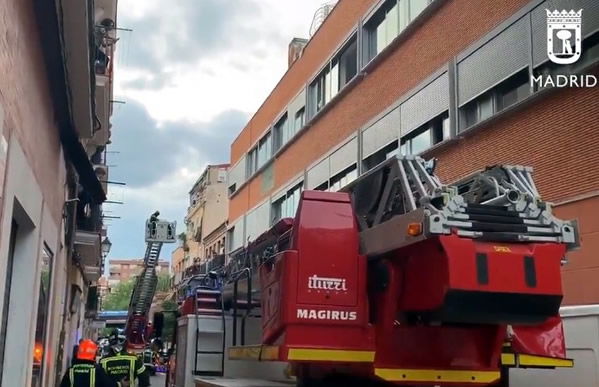 PARENTS In Madrid Try To Save Their Son From A House Fire By Lifting Him Out Of The Window

A mother and father in Madrid had to make a very difficult decision on how to save the life of their five-year-old son, as a fire took hold of their home in Puente de Vallecas, Madrid, last night (Wednesday 14), at around 8pm.
The blaze had broken out reportedly in the common landing on the fourth floor of the building that contained 35 apartments, and the family's only direct means of escape would be via the window of their second-floor home on 10 Monte Igueldo Street, as their route to the door was cut by the fire.
All that they had in the home to facilitate any escape was a rope and a ladder which a group of concerned neighbours had erected from the street below, but neither was long enough to safely lower the child to the street from the window.
Thankfully, the Madrid Fire Brigade arrived on the scene, and with the use of their hydraulic platform to reach them, the parents in Madrid, and their child, were rescued safely, part of a total of 13 rescued residents who had become trapped inside their apartments by the flames.
Nine fire crews tackled the blaze and extinguished it, with Samur-Civil Protection having to treat several residents for smoke inhalation, luckily none seriously enough to need hospitalisation.
Seven homes, as a result of the fire, had their electricity supply damaged, and three more had the water pipes damaged, with many of the residents having to be relocated temporarily due to the fire and smoke damage in their homes, with a spokeswoman for Emergencias Madrid saying an investigation is underway to establish the cause of the fire, as reported by 20minutos.es.
#Incendio en un descansillo de un edificio de viviendas en #PuenteVallecas. @BomberosMad extinguen y rescatan por fachada a 13 personas. Se ha acumulado una gran cantidad de humo en el hueco de escalera y zonas comunes. @SAMUR_PC atiende a todas ellas por inhalación leve por humo pic.twitter.com/jmvfifgAxc

— Emergencias Madrid (@EmergenciasMad) April 14, 2021