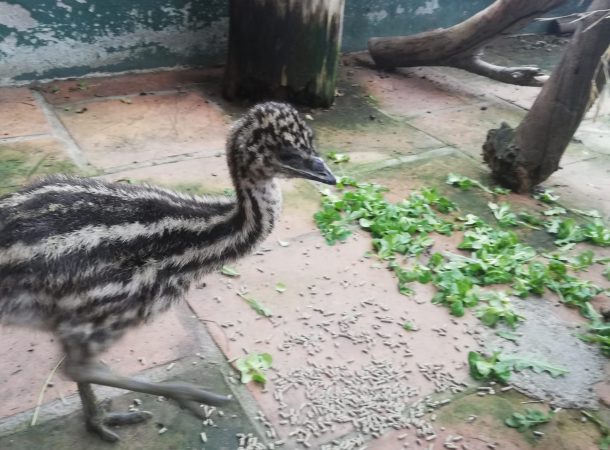 Almuñecar bird park welcomes adorable emu siblings.
THE pair of emus are the latest arrivals at Loro Sexi Park, having been born at nearby Peña Escrita over the winter.
The hardy pair "survived the intense cold and snowfall that coincided while the female incubated the eggs since this process lasts almost two months," said Almuñecar Council.
Staff at the park are now working on a new home for the babies and their parents.
The chicks are about 10 inches tall and have a distinctive chestnut coloration with cream-colored stripes for camouflage, which is lost after three months.
"The young birds will grow very quickly as they are sexually mature at 12 or 14 months; although they can remain with their family group for another six months, after which they separate to breed during their second season," added the local authority on behalf of the park.
Emus live between 10 and 20 years, while birds in captivity can apparently live longer than those in the wild.
The common emu (Dromaius novaehollandiae) is a species of strutioniform bird in the Dromaiidae family and is a flightless bird.
After the ostrich and the cassowary, the emu is the third heaviest bird in the world, although the second in height.
Adult emus can reach two meters in height and weigh about 45 kilos. Emus can travel great distances at a trot, and if necessary sprinting, reaching 50 km per hour for several km.
They are nomads and can travel great distances to find food, which is made up of plants and insects.
They are native to Australia and the only living member of the genus 'Dromaius'.
Loro Sexi Park reopened its doors to the public at Easter, and during the forced closure, improvements have been carried out, including the refurbishment of some enclosures to house new collections of parrot specimens.
Six months ago, the Almuñecar bird park increased the 'family' by welcoming the birth of two baby meerkats. This was an exciting time for the park because this species had not reproduced for a long time, according to Federico Salas, Biologist and Manager.
Opening hours are daily from 10.30am to 2pm and, in the afternoon, from 5pm to 8pm.