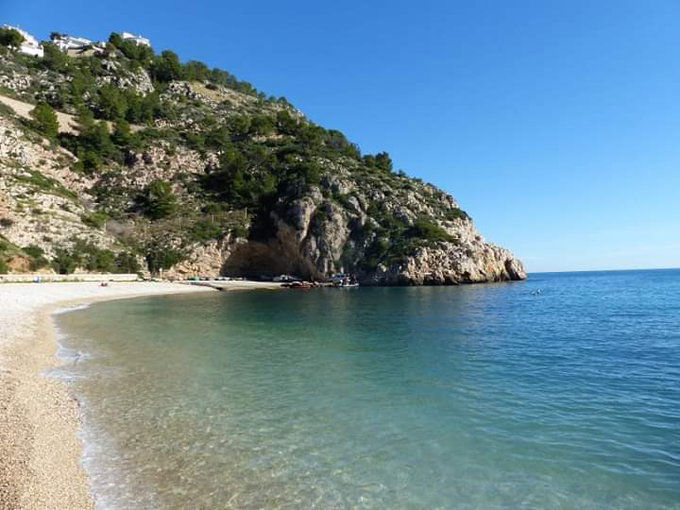 Costa Blanca 'hidden jewel' makes a splash on TikTok as videos go viral.
SPAIN'S Costa Blanca has countless hidden gems, many of which remained a secret to all but the most adventurous locals. Now, thanks to social media, the idyllic 'fish cave' located in the Marina Alta in the province of Alicante has been opened up to the wider world, thanks to spectacular videos going viral on TikTok. Viewers could be blamed for mistaking this favourite snorkelling spot for a little corner of Thailand, thanks to its stunning blue-green waters, which are caused by the river joining with the Mediterranean Sea. Many tour operators are now offering bespoke trips to the mesmerising fish caves where people can explore the vast array of marine life at the entrance to the spring.
The cave can be reached by paddle board or kayak from the Cala del Moraig beach in Poble Nou de Benitachell. Hemmed in by sheer cliffs, the area has been unsurprisingly popular with filmmakers and has actually featured in several commercials over the years.
It may not yet be viral on social media, but the Cove of En Calo in Xabia, commonly known as "the last secret Creek Marina Alta" is yet another one of the Costa Blanca's best kept secrets, and not to be missed by the intrepid adventurer. Located on the stretch of coastline that separates the Granadella beach and the Ambolo cove, it is a haven for people looking for an idyllic location in which to kayak and jet ski. An abundance of diverse marine life makes it a snorkeller's dream, and the fact that it is completely hidden from view by a large outcrop of rock adds to the mystique.
With an abundance of stunning treasures in the province, it is no wonder that the Alicante Association for Cruise Tourism has this month put together a plan to create national routes and 'check-ins' at small ports so that Alicante can benefit from the arrival of cruise ship tourists.