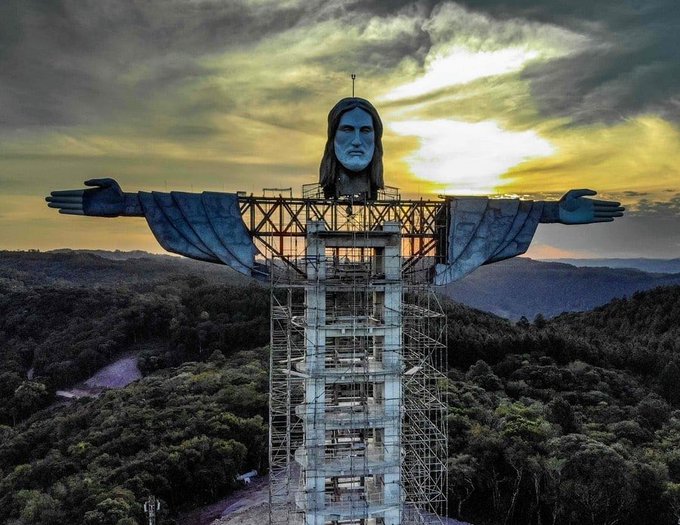 BRAZIL builds one of the world's tallest statues of Jesus in a bid to boost tourism
Brazil has embarked on its second mega statue of Jesus Christ, and this new endeavour will be even bigger than Rio de Janeiro's Christ the Redeemer, which has been towering 38 metres over the city for the past 90 years. The new Christ the Protector monument, which is currently under construction, will stand at a massive 43 metres tall when completed and is being built in Encantado. Soon to be one of the biggest statues of its kind in the world, authorities hope that the monument will be something of a tourist attraction while also helping to bolter people's faith.
Father and son team Genesio and Markus Moura are overseeing the project, which first began back in 2019 under the Association of the Friends of Christ and is reportedly costing 2 million reals (€294,098). Sadly, the mayor Encantado, Adroaldo Conzatti, who first proposed the Christ the Protector project, passed away from coronavirus in March.
Brazil is continuing to struggle to contain the latest wave of the coronavirus pandemic, with death rates the second-highest in the world after the US, at around 4,000 fatalities a day. So bad is the situation that the president of Brazil, Jair Bolsonaro, is facing an inquiry into his handling of the health crisis, which he sensationally called a "little flu" back in 2020. The president denies any wrong-doing and has insisted that the enquiry is "a stitch-up between Barroso and the leftists in the Senate to wear out the government."
Meanwhile, a study conducted last week showed that Brazilians have been using the identities of people already deceased to jump the queue for the coronavirus vaccine. The study, carried out by the controlling authorities in Brazil, verified that the set priority groups for almost 10 million vaccines had been observed, however, it also proved that the identities of people who were already dead had been used by citizens to get the vaccine before it was their turn.
Source: MailOnline