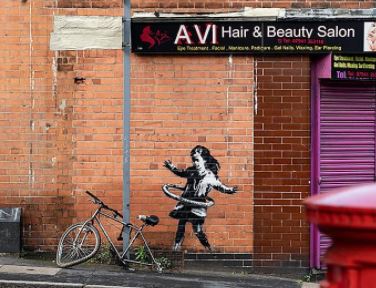 NOTTINGHAM BANKSY has been sold for a "six figure sum" to an Essex Gallery.
Despite many wishing for the Banksy to stay in Nottingham, the mural has been sold to Brandler Galleries in Brentwood, Essex for a "six figure sum". John Bandler, owner of the gallery has outlined his plans the Banksy mural.
John stated that the mural will not be staying in Nottingham and that the "great and good" of Nottingham had missed their opportunity to keep the mural. The mural appeared four months ago in Ilkeston Road and it will soon be sent to a Bury St Edmunds museum. According to John the mural may stay there "for a number of years" and is currently set to feature in an exhibition for several months.
Speaking of why the work will not remain in Nottingham John said "because nobody asked me" and went on to explain that, "if somebody thinks that if there's a call for it and there's a space for it to happen then why not Nottingham. The great and the good of Nottingham have had the opportunity to approach the building owner since this piece arrived to say we would like to keep it for the city of Nottingham.
"I didn't turn up in the middle of Nottingham with a chainsaw and steal it. Anybody in Nottingham could have done the same thing. Everybody's got 2020 hindsight."
A spokesperson for The Nottingham Project hopes that the mural being moved will not put Banksy off from returning to the city in the future.
---
Thank you for taking the time to read this news article "Nottingham Banksy Sold to Essex Gallery". For more UK daily news, Spanish daily news and Global news stories, visit the Euro Weekly News home page.