CAS Sponsorship Program
The Costa Animal Society (CAS) is excited to announce our new initiative of sponsoring a specific animal in our care.  Given the restrictions regarding the Coronavirus, fundraising has become extremely difficult.  For example, our annual dog show Scruffs is not possible this October, our best event of the year.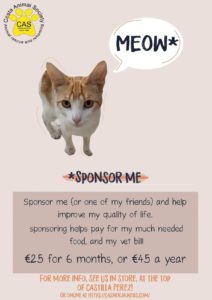 However, now you can sponsor one of our dogs or cats directly for either €25 for six months or €45 for a year. You will receive Ecards on their birthdays and at Christmas and there will be options via our website and Facebook page for sponsors to contact us to check in on their chosen animal.
If your sponsored dog or cat is adopted before the time limit, you can choose another animal to be informed about. Sponsorships can also be purchased as gifts.
For more information, feel free to contact us at our shop (643 625 334) or see us online at www.casnerja.webs.com or the Costa Animal SocietyFacebook page \casnerja
Featured Dog of the Month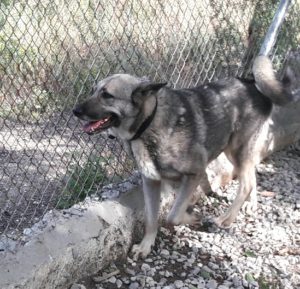 Bud has been in kennels for about two years, which is a shame because he is a good-natured dog who loves people and gets along well with other dogs but cannot live with cats. In fact, this is why he was brought to the Costa Animal Society (CAS) in the first place. He used to live with a couple who had several other dogs and many cats but, unfortunately, Bud killed one of the cats.
Bud is about five years old and in good health with perhaps minor arthritis in one of his front paws. He is used to living in a house and used to sleep on the bed with his owners and he would love nothing more than to live with someone in a home again. We think he is a Malamute cross (with perhaps Mastin) but more Alsatian in size at around 40 kilos. Bud is a really sweet dog who deserves another chance.
If you would like to meet one of the animals under CAS's care and are looking to adopt or are willing to foster a pet please contact Kurt and Laura at 95 252 1426 or Fiona through the CAS website www.casnerja.webs.com, or Facebook page \casnerja. To find out more about helping CAS contact May via the CAS shop on 643 625 334.
CAS Cat News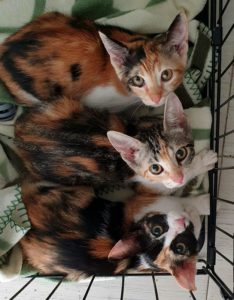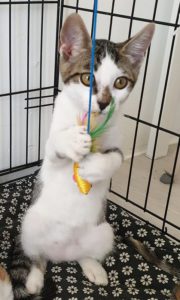 The Costa Animal Society (CAS) is as equally concerned about the welfare of the homeless cat population as about the dogs we rescue and rehome. Regarding cats, our primary focus is to capture feral cats and have them sterilized so six new kittens don't arrive a few weeks later.
We are lucky to have a few private volunteers who engage in these efforts, often at their own expense. One such volunteer, the legendary Gaynor, recently found four adorable abandoned kittens, too young to neuter who are now available for adoption.
They are very gentle and tame but still quite timid. There are three tri-colours, all girls, and a mainly white boy with tabby patches. They are all about 12 weeks old and now treated against fleas and worms, vaccinated and in foster care.
Life on the streets for a homeless cat is one of constant danger and a tireless quest for food and shelter. If you would like to be part of our team helping to shepherd these lovely animals from the mean streets to loving, forever homes please contact Fiona via [email protected]. You can also make a financial contribution earmarked for the cat account.
For more information regarding cats availble for fostering or adoption see the Facebook page \East of Malaga kitttens or cats/Gatitos de la Axarquia.
CAS Halloween Quiz Night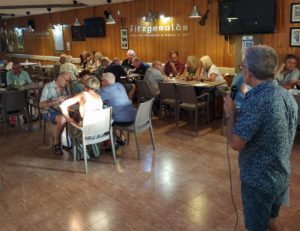 A big thank you to all who attended last month's Costa Animal Society (CAS) Quiz at Fitzgeralds in Nerja (especially to Fitgeralds Bar and Restaurant for hosting the evening).
The attendance and raffle resulted in €525 being raised for the distressed animals in Nerja/Maro.
We are pleased to announce that another exciting quiz night will be held at Fitzgeralds on Halloween, Saturday 31 October beginning at 7pm.  A special prize will be given for best costume along with prizes for both the best and worst teams.
Tickets are only €5 per person, up to six people per team. Be sure to book early as these evenings are great fun and quite literally a life-saver for the animals in CAS's care.
Fitzgeralds is located under Supersol on Calle Antonio Ferrandis Chaquete 2 in Nerja.  Tickets are available from Fritzgeralds, 951 550 585, or contact Jane Howard on 0034 643515428.  We hope to see you there!
CAS Shop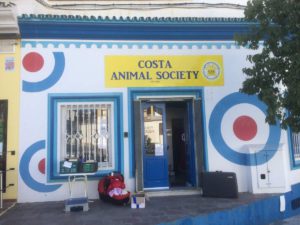 The Costa Animal Society's (CAS) charity shop is chock-a-block with great bargains on mens and ladies clothing, accessories, books, bric-a-brac, and many other surprises.  The shop's large inventory is clean and well-presented with a friendly staff of volunteers on hand to help.
Donations are always welcome – please help us to restock our shelves.  Of course all shop proceeds go directly towards helping our animal friends in need, primarily for vet bills, animal food and kenneling costs.
The Costa Animal Society (CAS) Shop is located next door to the Good Stuff Café in Nerja at No. 2 Calle Castilla Perez.  Our opening hours are Monday to Saturday from 10.00am until 2.00pm.  The shop phone number is 643 625 334.
CAS is always eager to hear from people who are interested in becoming shop volunteers.  One four hour shift once a week makes a big difference.  There are always two volunteers per shift making for a safe, relaxed, congenial environment.  For more information please stop by the shop and ask to speak with our shop manager May Delaney.
Can you help CAS?
The Costa Animal Society (CAS) is always in need of more volunteer helpers in a number of areas so if you have spare time to fill, please make contact!  In particular, we are currently seeking someone or ones who can help with fundraising and social media promotion.
In addition, fosterers are always required to take short-term care of animals until a permanent home can be found.  CAS will provide fosterers with all they need: food, medicine, bedding, leads, etc., as well as advice at any time.  Even if you are only here for few months a year, CAS would appreciate your help.
For general enquires and a no-obligation chat, feel free to contact May on 601 629 938.
Despite the horrors of the coronavirus and the uncertainties of Brexit among other things, money is always needed to cope with the continuous flow of abandoned dogs and cats requiring help from the Costa Animal Society.  If you could donate a little to help or consider becoming a member of CAS, we and the animals would be most grateful.
Bank : Cajamar
Account Name : Costa Animal Society
Account Number : 3058 0728 03 2720100283
BIC-Swift Code : CCRIES2A
*PayPal donations are also accepted through our website www.casnerja.webs.com, under the "Donate" tab.
We hope you enjoyed this article "name of article".
You may also wish to read "Costa Animal Society saving lives, one pet at a time."
Euro Weekly News is delighted to continue to be able to bring you a range of News that doesn't cost you anything but your internet connection. Whether it's Local Spanish News or International Entertainment News, we've got you covered!
For more Local Spanish News from [enter region of Spain], head over the page on the Euro Weekly News website.
For more Political News from Home and Abroad, visit the Euro Weekly News website.
For more up-to-the-minute National & International News, visit the Euro Weekly News website.
For more Entertainment news from across the Globe, visit the Entertainment section of the Euro Weekly News Website.
For more engaging and interesting works from our extensive range of talented columnists please visit the Columnist section of the Euro Weekly News website.
Euro Weekly News, the people's paper, we lead others follow!