A LARGE boat with four outboard motors providing 1700Bhp was found on the beach at Rio Real, Marbella, Tuesday, September 1.
The boat was loaded with a number of sealed bales, allegedly containing drugs.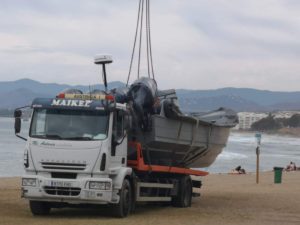 The National Police have removed the boat which was left deserted along with the cargo. It is one of many attempts at drug trafficking in the area. The police have been successful in stopping multiple drug drops on the beaches and detaining the people responsible for attempting to flood the streets with the contraband in recent weeks.
Wednesday, August 26 EWN reported two jet-skis carrying similar-sized bundles landing on the beach in Marbella mid-afternoon, where Local Police intercepted the drivers and cargo.