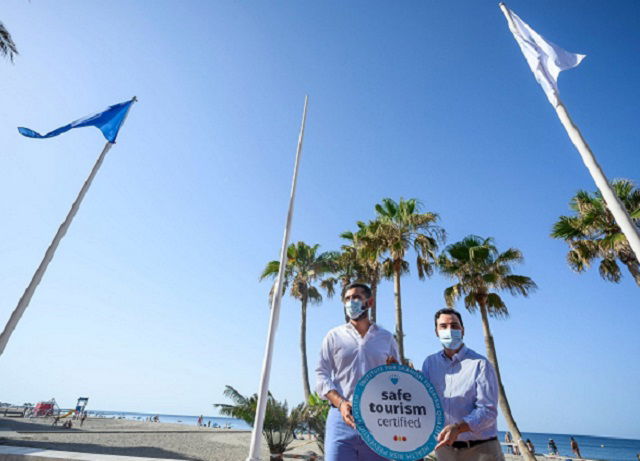 THERE are a sea of flags recognising quality and safety flying on Almeria's beaches this summer.
The city's coast boasts two ADEAC Environmental Education and Consumer Association blue flags, four Tourism Ministry Q flags for Quality, four of the ministry's new Safe Tourism certificates, one Accessibility flag and six ISO 9001 quality certificates.
The Safe Tourism certificates "reflect that we are a safe destination for Almeria residents and tourists", stressed Almeria Mayor Ramon Fernandez-Pacheco
Speaking at the official raising of the flags on Thursday, the Mayor also made reference to the agreement between the council's City Promotion Department, the University of Almeria and the Torrecardenas hospital on analysing the provincial capital's beaches and sand throughout the summer, the first round of analyses coming up negative.
"Every year we make an effort to improve our beaches, and this year we have thrown ourselves into safety, with the Beach Contingency Plan, and in accessibility", the Mayor commented.
Fernandez-Pacheco encouraged both locals and visitors to "enjoy our beaches and our city with happiness and at the same time with the corresponding health safety measures."