Cuevas del Almanzora has taken a stand for gender diversity in events to mark International LGBTI Pride Day on June 28.
CUEVAS Social Well-being and Equality councillor Melchora Caparros, accompanied by Mayor Antonio Fernandez Liria and the rest of the councillors and town hall staff read out a commemorative manifesto in front of the building on Monday morning in an expression of the local authority's support for the freedom and sexual diversity of all people.
The awareness-raising acts began with the release of multi-coloured biodegradable balloons, which the council said was a symbol designed to "give visibility" to the LGBTI community.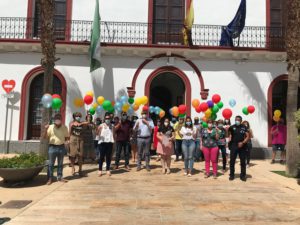 Also on Monday morning, a rainbow coloured flag was unfurled from the town hall balcony.
New this year among the initiatives to mark the LGBTI Pride Day has been the creation of the 'Wall of Equality and Diversity' near the municipal multi-purpose warehouse. The local authority explained the idea is for the wall to serve as a canvass for graffiti "expressing the social desire that we are all aware of the need to fight for a fairer world, in which questions of sex and gender do not mean discrimination or unequal opportunities."
The council goes, "that this wall cries out for the victory of love over pain and injustice, a wall which far from dividing, is a meeting point for those human values which make a society freer and more united."