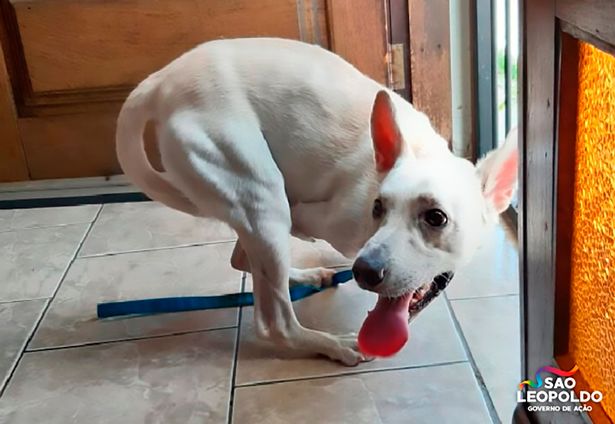 THE heartbreaking video which showed a defenceless and disabled dog being dumped on the street by a callous owner went viral across Spain yesterday (January 5), pulling the heartstrings of every animal-lover in the country.
The poor pooch with three legs was left on the side of the road, evidently showing signs of distress after being left alone. The little white dog had made a desperate attempt to climb back into his owner's car, but was pushed away and nervously looked on as the vehicle drove away.
After the footage of the shocking act of animal abandonment was posted online the video was viewed and shared thousands of times across Spain, with many condemning the woman's heartless actions. The tear-jerking footage was undoubtedly more than uncomfortable to watch, with many people calling for the woman to be "brought to justice" and to "face the same punishment as the animal", where death threats were even issued on the woman's head.
Mujer abandona a uno de sus perros por discapacidadJuzguen ustedes amigos😥




Geplaatst door Nota La Neta op Zaterdag 4 januari 2020
In fact, this was not the first time the adorable dog named Tintin was to face abandonment, as he was returned to his owner by a resident who recognised the dog on the street and thought he had run away from their family home. This resulted in a second attempt to dump the dog just a few hours later by the woman's husband who left the poor soul on another street in the middle of Sao Leopoldo, located in the Brazilian state of Rio Grande do Sul.
Since the video was published, more information has been revealed about Tintin who has suffered a more than painful start in life. Not only has he lost one of his legs, but he also suffers from a disability on his remaining front leg, causing him great difficulty to walk.
However, Euro Weekly News is proud to reveal that little Tintin has finally been adopted into a loving home after being taken in by Patas Geurreras animal charity. He is reported to be doing exceptionally well despite his circumstances and is now being given the care and love he so desperately deserves.
"Tintín" el #perrito que fue #abandonado por una mujer que lo sacó de su carro y lo tiró a la calle por ser #minusválido. #NoAbandones #AdoptaNoCompres #PatasGuerreras 🐶❤️ pic.twitter.com/An6u10x8aG

— Patas Guerreras (@PatasGuerreras) January 6, 2020
The plight of the gorgeous pooch is symbolic to the thousands of other animals who are treated to abhorrent cruelty in South America, where dogs are often treated as a pest. Tintin's remarkable story provides a stark reminder of the countless number of canines who face continued pain and abandonment at the hands of humans.