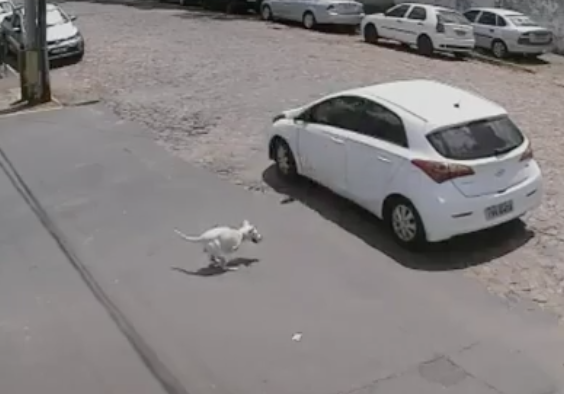 FOR the majority of people residing in Spain, the universal belief that a dog is a man's best friend could not be more true, where both Spaniards and British expats have considerable love and affection towards their canine friends.
Dogs are in fact the most popular pet in Spain and concerted efforts have been made over the last few years to help those animals who are in desperate need across Spanish cities, coasts and towns. In fact, once a dog is abandoned or maltreated, it is not rare to see individuals doing their very best to ensure that the animal is taken care of.
For this reason, a heart-breaking video shared on social media of a dog being dumped by their callous owner has caused an outpouring of disgust in Spain, where the cruel action has been condemned.
The footage shows a woman calmly pulling up to the side of a road and letting her two dogs out of her car. She then decides to let one back inside, where the other dog also tries but is pushed aside by the heartless woman. The little pooch is then left alone as the owner drives away – a moment that certainly brings a tear to one's eye.
The video, which has now gone viral across Spain, has recieved thousands of comments and shares, with almost all people expressing their distaste and sadness of the woman's actions, who is believed to live in Brazil.
Some, who are evidently disgusted more than others, have even published death threats to the woman, where it is rumoured that Latin gang lords have even put a contract out on the owner's head.
Hundreds of people have also made a promise to find the woman responsible and bring a punishment as hard as the dog suffered, where many even stated that they were physically sick watching the video.
Speaking to Costa del Sol resident Margarita Robles, she said: "The video just broke my heart. I can't believe someone would be so cruel to abandon a defenceless animal. I have three dogs and they are considered as my family, I would be lost without them so this woman's actions are not understandable."
Another Malaga resident named Joshua Allen said: "Honestly, if I had the money I would fly out to Mexico myself and rescue that dog. I rarely cry, but this video has struck a cord."
Another individual who wishes to remain anonymous, stated: "I would like to see the woman experience exactly what she laid onto this poor dog. Let us abandon her or her children in the middle of nowhere and see exactly how she feels."
As Euro Weekly News understands, the adorable pooch was taken in by a local animal shelter and has thankfully been adopted into a loving home. We speak on the behalf of everyone, that we sincerely hope the dog's life is now filled with love and joy and that they will never face the same circumstances again.