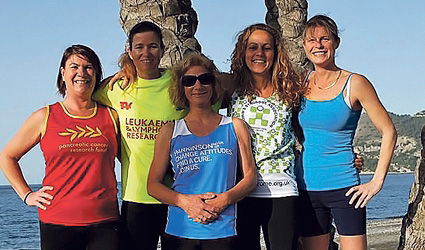 INSPIRED by her parents' fight against cancer, an Axarquia woman has decided to run Sunday's Barcelona marathon to raise cash for research into the disease.
Laura Smith has never run a marathon before, and in her own words had 'never really been active at all'.
But her parents' fight against cancer has made her determined to give something back to charities dedicated to the disease as well as other worthy causes.
Laura said: "I have lived in Spain for 10 years. My parents live in the UK and unfortunately both were diagnosed with cancer last year. On a positive note, they are both recovering well." 
Laura added: "I decided I wanted to challenge myself and as my father had run three London marathons, I decided to train for one, and chose Barcelona for my first race."
In a heart-warming show of support, friends of Laura decided to rally round to help her fulfil her goal.
Laura said: "Gradually friends started to join me and now there are five of us in total: myself, Laura Smith, Rose Lock, Michelle Leach, Rachel Langley and Sally Parkinson (pictured).
"We have all been training for several months. I started in September 2013."  
The charities being supported by the team are: Pancreatic Cancer Research Fund; Down's Syndrome Association; Leukaemia and Lymphoma Research,  and Parkinson's.
To sponsor the ladies visit:  https://www.justgiving.com/teams/barcelonamarathon2014
After the event, there will be a celebration Charity Night at Bar Hideaway in La Herradura on March 22.