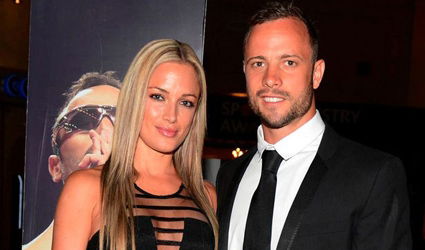 South African judge, Dunstan Mlambo has ruled that the trial of Oscar Pistorius for the murder of his girlfriend Reeva Steenkamp can be televised.
The double-amputee Olympian, 27, shot and killed his girlfriend, model Reeva Steenkamp, on Valentine's Day, 2013 at his home in Pretoria, South Africa.
Pistorius denies murder and says he shot her through a toilet door in self defence after mistaking his 29-year-old girlfriend for an intruder.
The sprinter's legal team had made an application to have the media barred from proceedings arguing it would prevent him having a fair trial.
But today the judge ruled to allow limited TV coverage of the case which is due to begin on March 3, 2014.
First time in South Africa's history a criminal trial has been broadcast live
Judge Mlambo ruled to allow broadcasters to show the opening arguments for state and defence, expert evidence, testimony of police as well as all consenting state witnesses.
The application to film proceedings was brought by media groups MultiChoice, eNCA and Eyewitness News.
But they have been told not to film close ups or record private conversations.
Evidence given by Pistorius and his witnesses will also be exempt from the ruling, the judge said.
Photographers will be allowed to take still photographs during the trial and audio of proceedings will be published in full.
As well as the charge of premeditated murder, Pistorius also faces a charge of illegal possession of ammunition.
Street talk: Should celebrity trials be televised? Read about here 
Oscar Pistorius looked at porn in the hours before he shot his girlfriend dead
It is claimed he viewed X-rated material and used car websites on his mobile phone, which was recovered at his home in Pretoria.
The papers allegedly say: "The accused's website activities from the time they were at home are in direct contrast to that of a loving couple spending time together."
South African media reports suggested the State would rely on 13 facts to prove Pistorius's guilt using his mobile phone browsing history as part of the case.
On the anniversary of her death, he said he was "consumed with sorrow" and will "carry the loss" for the rest of his life.