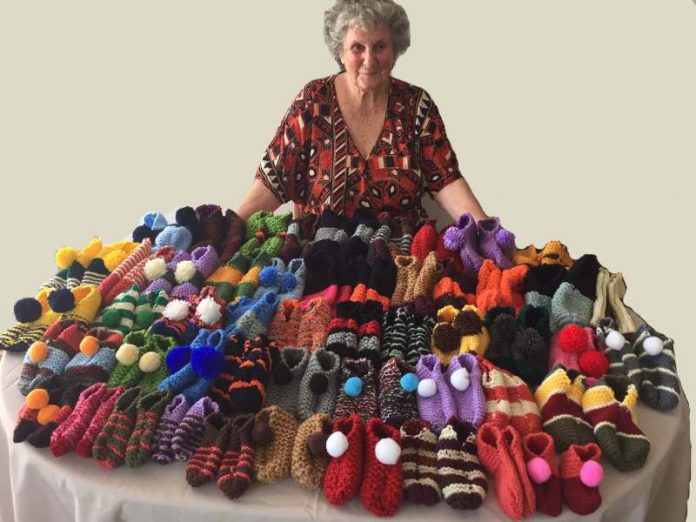 THERE are some very cosy toes at the Preventorio Infantil children's home in Real de Gandia (Valencia) thanks to Iris Vaughan.
Iris, who is 93 and lives in Oliva, has few options on how to pass her days, her daughter Angela Town told the Euro Weekly News recently.
"Knitting and listening to audiobooks are her two main pastimes since losing most of her sight to macular degeneration," Angela explained.
Encouraged by her daughter, who leads the local U3A Knitting group, and after receiving a wonderful donation of wool from one of the members, Iris set about knitting slippers for the children's home, Preventorio Infantil de Nuestra Señora del Amparo.
"When she reached 24 pairs, Iris thought that would be enough but had a shock when she discovered there are usually about 50 children using the home," Angela said.
Undeterred, Iris picked up the pins again and carried on until reaching the suggested 50. All the pairs are different, in sizes ranging from very small to teenage years, and some are adorned with pom-poms.
Iris did need to ask her daughter to help sew them together to make sure the stripes in the patterns matched, Angela said, but this was her only contribution.
After she contacted the home, a representative from the Preventorio said that the children would be overjoyed with the slippers and Angela has now delivered the slippers to the Gandia home.
Iris did not accompany her owing to the Covid situation but, as she said afterwards, knowing that slippers were needed and appreciated made it all worthwhile.
Iris has been knitting for most of her life and still remembers one of her first lessons at school when she was or five years old.
The class of girls were being taught to knit a dishcloth and Iris could not help but laugh and giggle when her knitting needle kept sliding out and dropping to the floor.
Her teacher found it less funny, and Iris had to stand at the front of the class and have her legs slapped for her insolence.
Luckily it did not deter her from learning and now, nearly ninety years later her family and friends are still benefiting from her skills, receiving bed socks, leg warmers, fingerless gloves.  And slippers, of course.