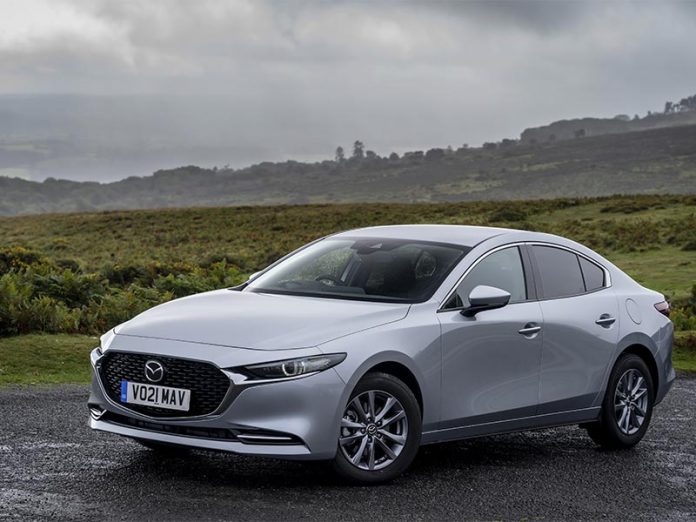 IN a motoring world where cars, to the average person, all look vaguely alike, Mazda's 3 saloon is arguably no different. It looks pleasant enough, but in reality is a design that could carry any automotive badge. Sit behind the wheel though and you find those discreet looks hide a car whose quality, drive and equipment belies its price tag.
Mazda's 3 comes in both saloon and hatchback with prices starting at €25,901/ £21,955 for the hatchback and €29,442/£24,955 for the saloon, and it's the saloon we're concentrating upon here, although many of the features are the same in both formats.
Hatchbacks account for by far the greatest number of sales with saloons notching up a very small percentage. If you thought saloons are less practical than a hatchback then you're right… some of the time. How often do you remove the parcel shelf from your hatchback? How often do you lower the seats in your hatchback? For many people the answer is not that often.
The Mazda has a very decent boot and the aperture is a good size too, often a practicality failing on saloons, and despite its four-door status there are split folding rear seats. Saloons can be practical! There's also, in my view, a good argument for saying that saloons are quieter than their hatchback counterparts by nature of their fully enclosed load area.
A single 2.0-litre petrol engine is offered on all saloon models, developing 186PS, and with clever hybrid engineering returns commendable fuel economy. I averaged 56mpg in a top-of-the-range manually geared GT Sport Tech.
Standard fare on the Sport Tech GT is very comprehensive to say the least with everything you would expect to find on a much more premium brand.
On the road the car drives beautifully and has an interior that feels extremely premium and high quality. It's a really nice place to be and there's a reassuringly positive feel to the controls, and well done Mazda for having buttons and not over-the-top touch screen control for everything. A central display, crisp white on black dials and a head-up display make for easy reading.
Mechanically there's a wonderfully smooth six-speed manual gearchange (auto is available), refined ride and handling and very tidy acceleration. It's not a car to excite petrolheads, but for those wanting comfortable luxury and a choice away from the usual automotive suspects then the Mazda 3 saloon has nailed it!
Facts at a Glance
Model: Mazda 3 Sport Tech GT 6-speed manual saloon
Engine: 2.0-litre eSkyactive, mild hybrid, 4-cylinder petrol engine developing 186PS
Price: €34,277/£29,055
Gears: 6-speed manual
Performance: 0-100 kph (62 mph) 8.1 seconds/Maximum Speed 215 kph (134 mph)
Economy: 5.0l /100km (56.5 mpg)
Emissions: 114 g/km
Model tested was UK-specification and equipment levels and prices may vary in other markets.