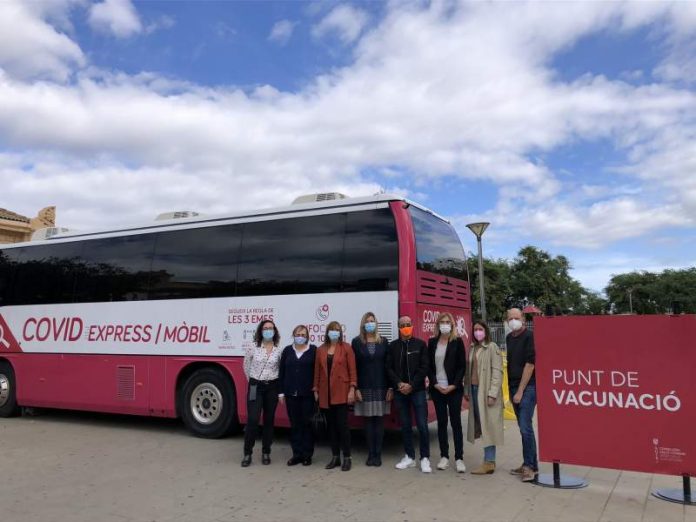 A SELECTION of the most recent news in brief from across Mallorca compiled for readers of Euro Weekly News.
Covid Express
EVEN though some 83 per cent of the Balearic population has been inoculated against coronavirus, it's still not enough, so a mobile bus offering first injections to those who have held back will be stationed at the Plaça d'España Palma until November 12 from 7.30am to 6.15pm.
Tasty pastry
TO coincide with its annual convention in Alcudia, which attracted more than 3,000 people, the Grupo Social ONCE not only featured a Mallorcan Ensaïmada on its latest lottery ticket, but also arranged for a huge pastry weighing 340 kilos to be made and unveiled on the local beach
Leaking roof
IN May 2020, the Marratxi Council spent €40,000 on waterproofing the roof of the CEIP Costa i Llobera Sports centre but according to local Ciudadanos Councillor José María Amengual, it has already started to leak again which is potential dangerous to the main users, children.
Reclaiming the past
THE Campanet Council is to request the return of five historical items found in the Massana Caves from the National Archaeological Museum in Madrid. Whilst it wants to allow local residents to see the items it would be content if they ended up at the Museum of Mallorca.
Soller tunnel
FINALLY, all evidence of the toll booths at the entrance of the Soller road tunnel has been removed by the Consell de Mallorca and the newly laid road surface and area was formally welcomed by representatives of the of Bunyola, Fornalutx and Soller Councils.
Sound proofing
EVEN though some would suggest that if you purchase a property near a busy airport that noise could be a problem, Aena which manages Palma Airport has confirmed that it will arrange for 58 new homes to receive sound proofing and has received requests from a further 25.
Police awards
THE Balearic Government has recognised 89 Local Police officers from across Mallorca who are involved in front line duties, assist children with education on roads or act as tutors to new recruits at a ceremony held in the Alcudia Auditorium on October 29.
More trees
PALMA Council says it is committed to planting trees around the capital and grows trees from seed in order to keep costs within budget. For the next planting season, it anticipates a total of some 1,800 new trees with around 250 planted every month.
Another century
THERE are plenty of centenarians on Mallorca and the latest is Catalina Amengual Adrover who received greetings and congratulations from the Felanitx Council as she reached the magic figure on Saturday October 30 in the company of friends and family.
Thank you for reading '
A selection of the most recent news in brief from across Mallorca' and remember that all articles produced by Euro Weekly News may be accessed free of charge.