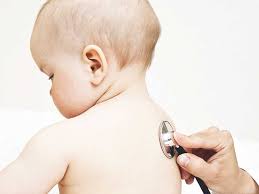 Covid-19 causes an outbreak of bronchiolitis out of season.
THIS illness is most prevalent during the winter months, particularly in December and January.
The Covid pandemic affected the behaviour of the respiratory syncytial virus (RSV), which causes bronchiolitis, resulting in an outbreak in the middle of spring, when the virus is most prevalent in the winter months, particularly between December and January.
El Periódico quotes Dr Juan José Garca, head of the paediatrics section at the Hospital Sant Joan de Déu (Esplugues de Llobregat), as saying that following an atypical winter with "no instances," they had had between 15 and 30 cases per week throughout the month of May.
Bronchiolitis is an infectious condition caused by RSV that causes inflammation and obstruction of the tiny airways in the lungs. It is particularly dangerous in children under the age of six months.
The virus spreads most rapidly between December and January, when Sant Joan de Déu typically sees between 50 and 60 cases per week; however, this was not the case last winter, when no cases were reported.
Garcia believes that, while security measures against Covid were stricter during the winter and effectively contained the transmission of RSV – and flu – the recent relaxation of restrictions may have contributed to its expansion, despite the fact that it is out of season, as has been observed in other countries.
As a result of the same loosening of controls, children have come into touch with an increased number of people who are susceptible of transmitting RSV, a virus that rarely affects adults but may be extremely harmful to infants.
Another explanation advanced by Garca is that, with the decline in coronavirus prevalence in recent weeks, RSV has discovered what is known as an ecological niche, or a space to occupy following months of SARS-CoV-2 predominance.
Dr Garcia recommends following the same precautions as with the coronavirus to avoid transmission of RSV: maintaining interpersonal distance, hand washing, and avoiding contact with tiny children if you have cold symptoms.
As reported by Axarquia Plus