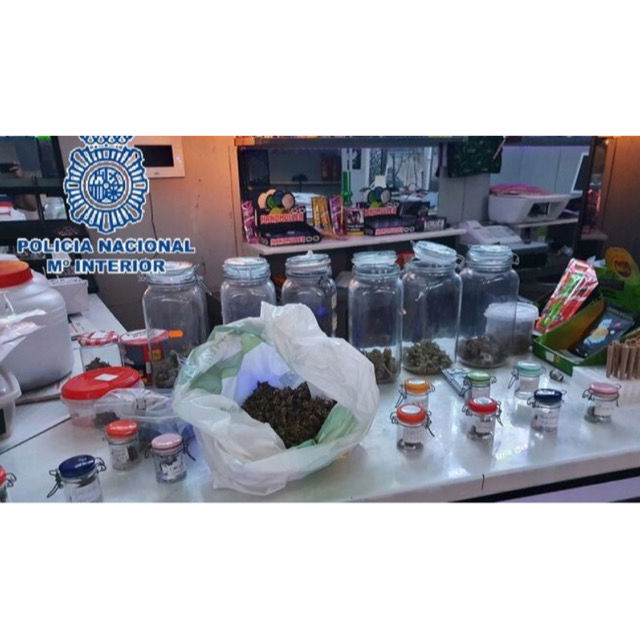 DRUG network has been dismantled in cannabis clubs on the Costa Del Sol. The National Police have dismantled a group dedicated to the cultivation and distribution of marihuana in cannabis clubs on the Costa del Sol. Within the framework of the 'Duo' operation, officers have detained five men for their alleged involvement in crimes of drug trafficking, fraud of electricity and belonging to a criminal organisation.
As reported by Malaga Hoy, investigators have seized 21 kilograms of marihuana and 645 grams of hashish, with part of the drug hidden in the walls and also in a pool table, communicated by the Provincial National Police Station through a statement. The investigation began as a result of receiving information in mid-April that pointed to a possible marihuana plantation in a property located in Álora. The proceedings confirmed the existence of a crop made up of 338 marihuana plants in a home that was fraudulently connected to the electricity grid.
Officers assigned to the Costa del Sol Organised Crime Group (Udyco), of the Fuengirola Local Police Station, identified the alleged perpetrators of the marihuana plantation and found out how the substance was harvested and packaged. It was later distributed in three locations in Fuengirola and Benalmadena, which functioned under the concept of the association of cannabis consumers. It is alleged that behind the property of these establishments is a man with a record of crimes against public health.
Supposedly these clubs were selling drugs on a small scale among clients. One of the premises, in Benalmadena, had already been previously closed by the Local Police. On May 12, the investigators carried out the exploitation phase of the operation, and five people were arrested, including the owner of the premises, for their alleged involvement in the events.