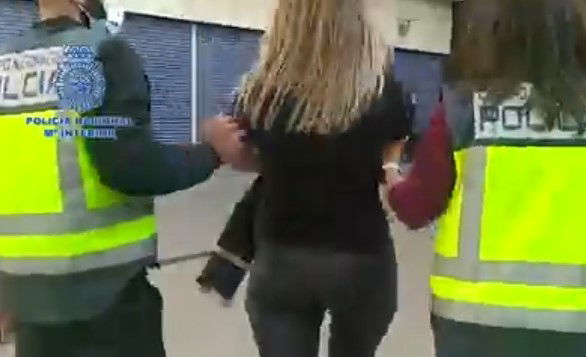 Female fugitive wanted for running an international prostitution ring from Spain is arrested.
THE National Police have detained a fugitive wanted for controlling a prostitution ring between Brazil and Qatar from Spain.
She was arrested in Barcelona following an international police operation between several countries coordinated by Interpol.
"Through telephone contacts, emails and communication applications, she controlled from Spain the exercise of prostitution of women who were captured in their country of origin and transferred to Qatar," said Spanish police in a statement.
"She was also in charge of the reception and accommodation of the victims and their transport to the Qatari capital, in addition to participating in attracting customers interested in the services offered by the organisation," they added.
Coordinated by Interpol, all the countries involved in the investigation made simultaneous arrests of those believed to be involved in their respective national territories, with the female detainee being the only target in Spain.
🚩 Detenida en #Barcelona una fugitiva buscada por controlar desde #España una red de #prostitución entre #Brasil y Catar

Captaba a sus víctimas en su país de origen para su posterior traslado, recepción y alojamiento en #Catar#ContraLaTrata#DelitodeTratadeSeresHumanos pic.twitter.com/DdV8V6eqnA

— Policía Nacional (@policia) April 29, 2021



In a separate operation in Barcelona, the National Police arrested a fugitive who had a European Arrest and Surrender Order filed by the Polish authorities for drug trafficking offenses.
Last week, police caught up with a 64-year-old wanted over an €18 million betting scam.
A European Arrest and Extradition Warrant had been issued for the Belgian man in relation to the huge scam in which he conned millions out of his victims.
A lengthy investigation led the National Police to Alicante town Alfaz del Pi on the Costa Blanca, where the fugitive and his sister were discovered hiding out having fled Belgium in May 2020.
At the time of his arrest, the fugitive was carrying a document with a fictitious identity which allowed him to "go unnoticed in Spain for almost a year", reports Las Provincias.
Between 2008 and 2012 in the Belgian city of Liege, allegedly with the help of his sister, the detainee reportedly managed to defraud millions by promising to place sports bets for his victims, bets that were never made.