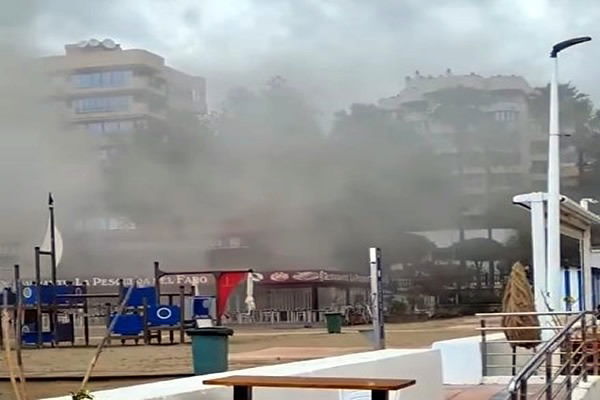 La Pesquera Restaurant in Marbella Port Suffers Blaze.
A FIRE that apparently started in a seafood fridge has partially destroyed the La Pesquera Restaurant in Marbella Port. The alarm was raised at around 5.00pm today, Tuesday, April 27 – local residents alerted the emergency services when smoke was seen billowing across the street.
Local and National Police, firefighters, and health services were soon at the scene. The fire has completely destroyed the ground floor of the premises, although the rapid response of the fire brigade prevented the damage from being greater than it could have been. However, according to officers at the scene, it was not an easy fire to put out and firemen worked for more than two hours to extinguish the flames.
Paramedics had to assist a 48-year-old male affected by smoke inhalation. He was a worker, who was intoxicated while trying to put out the flames before the arrival of firefighters.
Early reports suggest the fire started in a motor of one of the shellfish fish tanks. The owner of the la Pesquera chain, Ramón Mesa, is said to be very upset about what happened today. He stressed that, in the harsh situation of the entire hospitality sector due to the coronavirus, they have to cope with the havoc caused by this fire. "Now we'll try to fix this as soon as possible so we can try to get the summer season going," he said.
Source: diariosur