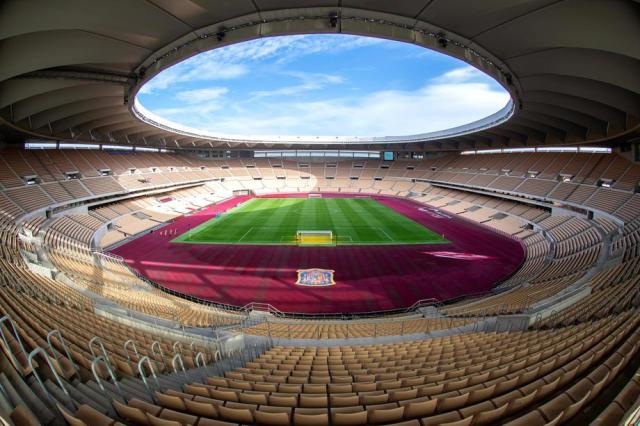 MORENO Will Suggest Sevilla Stadium To UEFA As An Alternative Venue For The Euro 2021 Finals
Juanma Moreno, the president of the Junta de Andalucía, attended last night's Copa del Rey 2021 Final, in the La Cartuja stadium in Sevilla, where he watched Barcelona beat Athletic Club 4-0.
Mr Moreno was quick to praise the incredible job that had been done by the Ministry of Education and Sports in refurbishing the La Cartuja stadium, which had been left in a state of abandonment by previous Andalucían governments, but which is now a sports venue of the highest quality.
The invitation to the match came from His Majesty King Felipe VI, and he was in the company, among others, of Pedro Sánchez, the President of the Government of Spain, with Javier Imbroda, the Minister of Education and Sports, and Luis Rubiales, who is the President of the Royal Spanish Football Federation (RFEF).
This Copa del Rey final was the second one to be played in the Sevilla stadium in two weeks, after the Junta de Andalucía had made an agreement with the RFEF for four consecutive finals to be staged there, until 2023.
Included in the agreement was also the use of this Andalucían stadium for some of the Spanish national team's matches, both male and female, plus Under 21 games, with two matches from each category being played there, up to a total of 24 matches.
The Junta president said, "The Cartuja Stadium has become the protagonist of great football events", and added that he is excited about the possibility of UEFA choosing La Cartuja to be an alternative venue for the Euro 2021 tournament which starts this June, something which would give Sevilla, and Andalucía huge exposure when televised in more than 150 countries, as reported by juntadeandalucia.es.
The Euro Weekly News is running a campaign to help reunite Brits in Spain with their family and friends by capping the costs of PCR tests for travel. Please help us urge the government cap costs at http://www.euroweeklynews.com/2021/04/16/ewn-champions-the-rights-of-brits-in-spain-to-see-loved-ones-again/