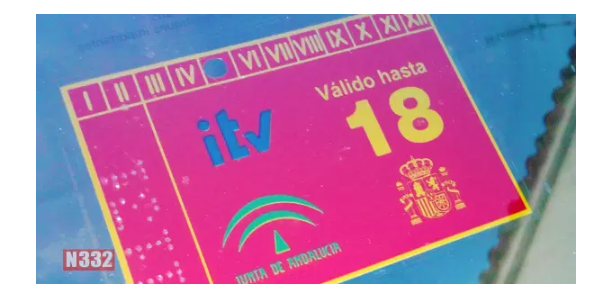 ITV car sticker placements and colours explained.
Yesterday, the N332 posted information on the ITV car stickers and colours, saying on their Facebook page: "Remember that once you get the new ITV sticker, you must remove the old one before placing the new one in its place."
"The ITV sticker is classified as sign 'V-19' in the Spanish Traffic Law. It is compulsory to show it on the right-hand side of your windscreen. Please, display only the last one."
The website goes on to explain that the stickers are colour coded "on a three-colour cycle of green, yellow and red."
As long as you are displaying only one sticker on your vehicle in the required place, which is in the upper right corner of your windscreen as you are looking out, it is then clear to traffic and police officers who are carrying out roadside checks that you have the correct sticker displayed.
Known as the V-19, your sticker indicates to officers that your vehicle has passed its periodic technical inspection and displays when the next inspection is due. This sticker is self-adhesive and should be stuck to your windscreen, however, in vehicles that do not have a windscreen it must be in a clearly visible place.
As well as the sticker, it is also mandatory to have the ITV report in your vehicle.
As mentioned above, you must only have one sticker displayed on your windscreen, and it must only be the one that indicates that the current inspection is valid.
Source: N332