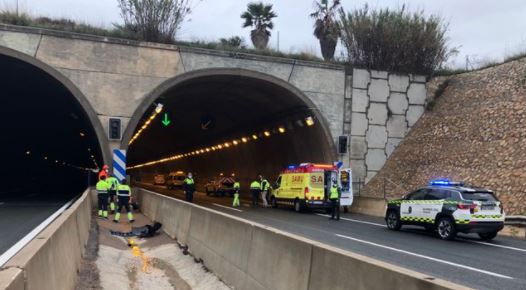 Young Brit Dies in Pilar De La Horadada Motorway Accident.
SADLY, it has been confirmed that a young Brit died in a motorway accident on the AP7 motorway on Friday, April 9. The man was only 24 years old and according to CCTV footage had been travelling alone in the vehicle before losing control for unknown reasons.
The car the young Brit was driving crashed into the AP7 motorway central reservation on the approach to Pilar de la Horadada at the entrance to the motorway tunnel. It is believed that before the car came to a standstill it rolled several times before landing around one hundred metres into the tunnel and on the right-hand side of the road.
The accident was recorded by CCTV footage at shortly before 11.20am when the driver who was the only person in the vehicle appeared to lose control and crash into the central reservation. The reason for the crash is not yet known.
According to CCTV footage the vehicle had been travelling at high speed and as it hit the central reservation it was thrown into the air. The car was seen to roll in the air before touching ground again but not before it was seen to collide with the "upper part of the tunnel" as reported theleader.
It was confirmed by the medical team that the young man was of British nationality, and had been driving from the Orihuela Costa towards Alicante-Cartagena. In addition to medical staff the scene was attended by the Pilar de la Horadada Local Police and the Guardia Civil Traffic department.