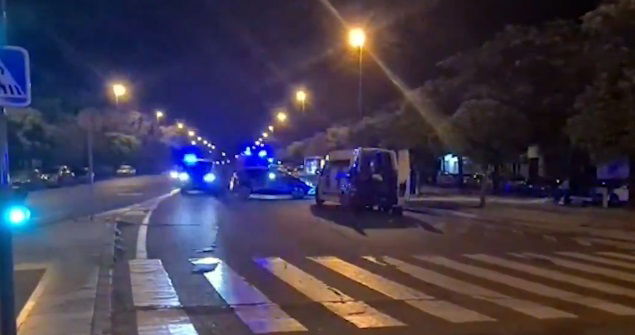 Pedestrian Killed By Hit-And-Run Driver In Ronda – Police Launch Manhunt.
A 53-year-old man was killed by a hit and run driver that allegedly fled the scene immediately after the tragic accident.
The accident occurred after eleven-thirty at night in the Ronda del Tamarguillo, located a few meters ahead of the Matadero roundabout and Hytasa avenue.
The Local Police are looking for the escaped driver after launching a manhunt. As reported by the Seville City Council emergency services, the accident occurred at a pedestrian crossing, where the victim was crossing at 11:35 p.m. when a speeding car ran over the man, killing him instantly on the spot. The video below is courtesy of Emergencias Sevilla.
🟥23:35 h. Un peatón(53) ha fallecido tras ser atropellado al cruzar un paso de peatones, por un vehículo que se ha dado a la fuga.
DEP.@PoliciaSevilla está tratando de localizar al autor.#Epes061 intervino certificando el fallecimiento.
Ronda del Tamarguillo #Sevilla pic.twitter.com/2uIZQTTFG3

— Emergencias Sevilla (@EmergenciasSev) April 10, 2021



On arrival at the scene, a team from the 061 emergency services tried to resuscitate the pedestrian but without success- all Doctors could do was to certify the man's death. The body was left lying on the ground several meters from the pedestrian crossing after the victim was displaced by the impact.
The Local Police immediately opened an investigation to try to locate the escaped vehicle. All the traffic control cameras in the area were checked until the car was identified.
After an intensive search, the vehicle was finally located in the Litanies neighbourhood, still showing signs of the damage caused by the crash. It was removed by a municipal tow truck and transferred to the warehouse so a police forensics team could continue with the investigation.
Currently, they are continuing to search for the driver of the vehicle- the alleged perpetrator of the crime.
A judge ordered the removal of the body after midnight, while the Local Police carried out measurements at the scene to try to clarify the circumstances of the accident- which is not as easy as it sounds.
Traffic accident reconstruction is the effort to determine, from whatever information is available, how the accident occurred. Describing the events of the accident, in more or less detail, is the aim.
Accident reconstruction is not so much a matter of collecting information about an accident as it is of thinking about information that has been collected. The reconstructionist essentially interprets data already gathered in lower levels of investigation. Traffic accident reconstructionists must have special experience that gives them the skill to find undetected facts in available information to deduce from these facts the circumstances that will prove or disprove a theory of how the accident happened.
Pedestrian Killed In Ronda- Source: Diario de Seville