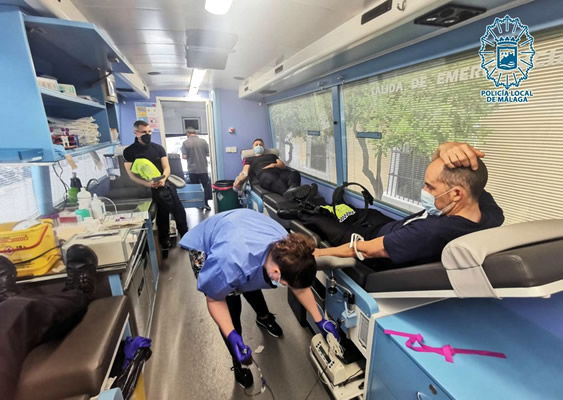 MÁLAGA Local Police Officers Participate In A New Blood Donation Campaign

One of the buses used in the blood donation campaign in Málaga, yesterday, Thursday 8, parked up at the doors of the Central Headquarters of the Local Police of Málaga.
Between the hours of 10am and 2:45pm, and then later on between 5pm and 8pm, a total of 92 officers lined up to donate their blood, in a very satisfactory campaign, with 86 of them providing an effective result, including nice officers who were giving blood for the first time, while six failed to donate an effective supply, for various medical reasons.
It was not only the officers from the Central Headquarters who participated in the process, as officers from other Málaga Local Police Headquarters and groups also presented themselves to give donations, along with some family members as well.
Blood donations are an important operation, allowing local hospitals to keep up their supplies of blood for emergencies, and once again, the officers of the Local Police of Málaga, who function as a public service for the benefit of society, lived up to their continued commitment of showing solidarity with the cause and carrying out new blood donations when they are necessary. or so deemed appropriate, as reported by elcasomalaga.com.