Remembering the deceased through food.
IF your deceased loved one was a 'foodie' or had a favourite drink, this is something which can be reflected in their memorial service, with food-related keepsakes.
A quick search online will show you that there is a wide variety of labels available which can be personalised and printed, unless you feel like trying your hand at designing them yourself.
These labels can then be put on to a wide variety of foods in bags, packets or jars, as well as on bottles or cans of drink.
A slightly quirky choice is to personalise sweets, with Tic Tacs being a popular option. Labels which fit the typical Tic Tac packets can be downloaded, personalised and printed. If you prefer, even if you don't use the label on them, you could purchase small sweet tins which can later be used by the guests to keep their little treasures inside, perhaps even to contain trinkets which remind them of your departed loved one.
M&Ms have an option by which you can order them personalised with an image or word of your choice, a popular option for those with a sweet tooth.
If you do choose these or similar sweets, then you will probably want to give them after the memorial service, as we all know that they can be quite noisy if shaken or moved in people's pockets, especially if there are children present.
Another fun option can be to use the labels to personalise the favourite candy, box or bar of chocolate of the deceased and give one to guests so that they can enjoy a sweet treat to remember them by. Again, probably best to hand out later to avoid temptations for younger guests which could result in rustling wrappers and dirty, sticky fingers.
If your loved one couldn't get through the day without their cup of coffee, a nice idea is to hand out personalised bags with a single serving of their favourite blend. Use a nice bag to put it in, tie it with some pretty twine and add a personalised label and you have an ideal way to remember them by sipping a cup of coffee. You could also give your guests personalised mugs as a keepsake. Portable mugs are especially popular.
If on the other hand they were a tea drinker, then a similar token can be made to give to guests, or if you prefer you could get some little tea infusers as a keepsake, which is something both symbolic and useful. Add a personalised label to them and your guests will be able to remember the deceased when sipping their brew.
A less common, but also popular option is to make a similar package with cocoa powder to make hot chocolate, maybe add a little bag of mini-marshmallows to go with it and your guests will have all they need to sit down with their hands around a warm mug while they reminisce about the deceased.
If they were more partial to wine or beer, many different wines now come in small bottles and you can have personalised labels put on them at the source or you can add them yourself after purchasing. The same goes for beers; choose one that your loved one enjoyed, print out your personalised label and add it to the bottle to make a unique gift. Champagne is another good option, and you could give guests either a small bottle of Champagne or a flute from which to drink it, so that they can raise a glass to the departed. Or, if it is appropriate for the person being honoured, shot glasses might be a nice option and can easily be personalised.
Although you may not be able to make them yourself, you can personalise another foodie option which has become popular and that is the much-loved fortune cookie. It will be a nice surprise for the guests to open the fortune cookie and find inside it something that reminds them of the deceased. Instead of just using the name and dates of that person, why not think of a special quote or song title that will make the 'fortune' a little more special, you could even include a joke.
If you would prefer something a little more traditional, you could make biscuits or cookies which can be wrapped individually and accompanied by a label with a quote or sentiment.
If the person loved to cook, how about writing out and printing their favourite recipe so that you can share it with the guests and they will all be able to have a lasting memory. Every time they make the food it will be a way to remember the deceased. Another small but useful keepsake in this case could be a little set of measuring spoons.
Finally, it is also quite common to order a cake for guests at a memorial or wake. This can be personalised to reflect the likes and hobbies of the deceased, or could more simply carry their name and some simple yet effective decoration. You can get cake slice boxes so that guests can take a slice home with them.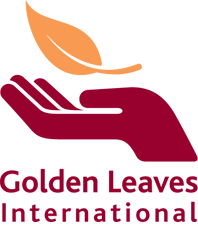 www.goldenleavesinternational.com • [email protected]
• Facebook: goldenleavesspain