The property portal of MiMove has, as the first international portal in Spain, decided to introduce Guarantees for buyers while also introducing both final price and price change features.
The Swedish-owned real estate portal MiMove has chosen to take it a step further to secure safeness and transparency purchases on the Spanish property market. As the first international portal in Spain, MiMove has chosen to introduce final price monitoring together with specific guarantees for safe home purchases.
Customer surveys show us that international buyers of homes in Spain want professional estate companies, they want to see that the price is up to date and that the property is really for sale and they want a marketplace free from duplicates. Therefore, we now stick out our chin and guarantee exactly this at the same time as we introduce the opportunity to monitor both price adjustments and final prices for all our visitors. Says Marcus Surtén, CEO of MiMove. ​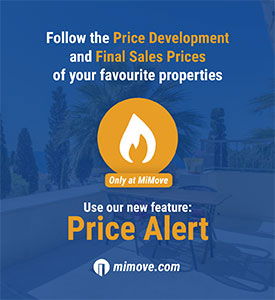 MiMove offers contact and buyers via a broad international buyer base, primarily from Northern and Central Europe, to the real estate market in Spain and Portugal. The goal for MiMove is to introduce security, safety and transparency in the market, which is intended to improve the entire industry.
Through our price monitoring, potential buyers can get in touch with estate agencies at an early stage and thus get information about both price and final price changes. Normally the Spanish market is filled with duplicates where you can find the same property dozens of times with different prices – our aim is to stop this. Marcus finishes.
More information about MiMove core business here: www.mimove.com/en/concept
---
MiMove was founded in 2016 with the expressed goal to increase quality on the property market by verifying content, and only offer vetted estate agencies to international buyers. MiMove is filling up the gap by providing a clean, transparent and trust-worthy platform for all stakeholders in the real estate value-chain. MiMove offers a platform where agencies can advertise and promote themselves and their properties. MiMove has Swedish roots and connections and their main office is located in Marbella, Spain.
For information, contact; CEO Marcus Surtén, [email protected], +34 691 66 39 54 Or; Marketing director Tommy Boman, [email protected], +34 619 732 797,