IT was very sad to hear that our good friend and Community Hero, Kara Caradas and her team at The Boardwalk in Marbella had decided to end the summer season early due to the pressures of Covid.
The Boardwalk announced on Facebook on Saturday, September 12 that they would close their doors on Sunday, September 13.
The announcement read "The Boardwalk will be closing her doors this Sunday! With deepest sadness we have made the decision to close our doors, Sunday 13th. Due to Covid restrictions with tourism, it is impossible to see the season out! We look forward to welcoming you all back again next year."
The announcement was met with shock from locals and loyal customers who also wished them well. Many pointed out that it was especially sad as Kara, her family and her staff had done so much for their extended community.
Kara responded in gratitude and explained the move "Thank you all guys .. we just don't see the situation getting better so with that in mind we've made hard decisions fast xx."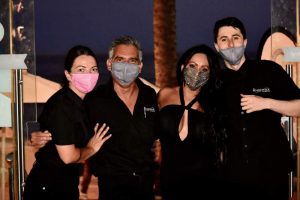 Kara was named the ´Princess of the People's Paper' in June after hitting the headlines with her Food Fairies, a group consisting of Kara's sisters, family, Pippa Jones, Jackie Quick Rice and others who collected and delivered food to families in need all the way from Malaga to Duquesa.
Many local businesses were kind enough to help, whether it be with donations, deliveries or actually cooking full meals. These included Restaurante El Banco, La Scala Marbella, 8 till late, Import Montes Marbella, Society Marbella Magazine, The Shack in Coin and many more.
Kara also helps with many animal charities in the area and when she is not feeding the dogs she sometimes goes as far as adopting them herself. She also runs a project that finds jobs for children from Malaga orphanages or employs them in the restaurants she and her sisters own.
She is the owner of The Boardwalk in Marbella, sister Penny owns The Harbour and The Playwright restaurants, whereas her other sister Charley co-owns The Boardwalk restaurant and owns the famous Mirage nightclub.