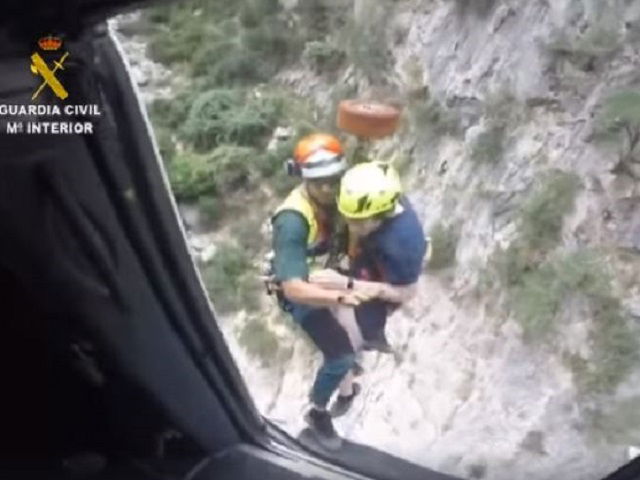 THE Guardia Civil carried out seven rescues in just five days in Mallorca.
Los compañeros de Montaña de Mallorca llevan una semana muy ajetreada con 7 rescates en 5 días.La colaboración con los Bomberos, Policía Local y Protección Civil de Mallorca como siempre de 10 para poder llevar a buen fin varios de los rescates.En estas fechas de calor hay que estar muy atentos a las horas en las que decidimos salir, la zona por la que vamos a transitar si es muy árida y sin zonas de sombra o por el contrario son zonas frescas.Como siempre unos pasos previos nos evitarán sustos más tarde:👉 Consulta el tiempo en la zona de tu recorrido.👉 Lleva suficiente agua y comida, ojo a la deshidratación.👉 Avisa de la ruta que vas a realizar.👉 El teléfono móvil siempre cargado al 100% y si puedes llevar una batería de apoyo mejor.👉 La ruta que vayas a realizar siempre de acorde a tu forma física#TenCabeza hay muchas más cosas que se deben preveer y preparar, pero lo más importante siempre es la prudencia, que un día de deporte y naturaleza no acabe en el mejor de los casos con un rescate.#AllíDondeNosNecesites #Llama062 #GuardiaCivil

Zveřejnil(a) Guardia Civil dne Sobota 18. července 2020
Assisted by the Bomberos de Mallorca fire service, the Guardia went to the assistance of six hikers and a bather who had either had an accident, got lost or were taken ill. One was a British man who got lost between Sant Elm amd Estellencs.
Guardia officers and firefighters found the 54-year tired, dehydrated and with scratches all over him, but otherwise uninjured, on the night of July 12.
They helped him back up to the main road and got him to his hotel in Estellencs at about 6am.
Three days earlier a 69-year Spaniard suffered serious injuries after falling five metres in Cala Estellencs and had to be helicoptered to the Son Espases hospital in Palma.
On the same day, a walker plummeted five metres in a cove in Alcudia. Again he was seriously injured and in an operation also involving Local Police and Civil Protection he was stretchered to an ambulance.
The following day Guardia Civil helped a 46-year old French woman who swam out to the bottom of cliffs in Cabo Blanco and ended up stuck, too tired and dehydrated to make it back to the beach.
On July 12 a 33-year became unwell while doing a group walk in the Torrent de Pareis. Fire fighters got to him by land. He was then winched on to a Guardia Civil helicopter and taken to hospital.
That afternoon a hiker called the emergency services, reporting he had lost his way in a mountain area. Two Guardia Civil specialist mountain groups located him dehydrated and with symptoms of exhaustion.
The next afternoon a German woman was reported missing in the Serra de Tramuntana reservoirs area. An overland search failed to find her, but she was eventually spotted by a Guardia Civil aircraft. She was exhausted and dehydrated, and was taken by helicopter to Soller where she lives.