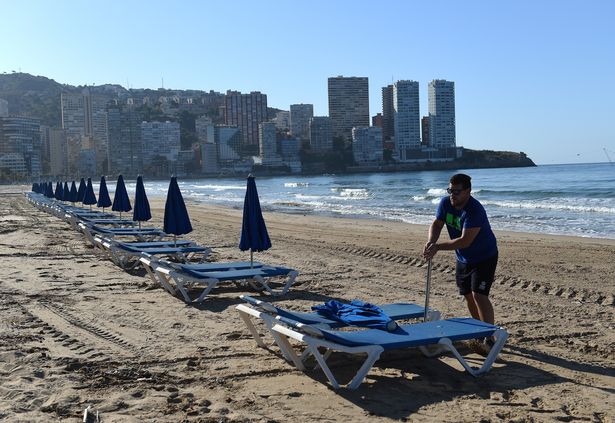 This Friday holiday makers will have to pre-book their spot on the sand on the popular Levante Beach in Benidorm
Confirming the high tech system will go live this Friday, local Mayor Tony Perez, said that at midday on Friday the system goes live, it would have been in use earlier, but the numbers of people using the beach did not warrant the switch on, now with British and other foreign holidaymakers arriving, the pre book system can be used.
There is another system installed already at Benidorm's Poniente Beach, but a date for its switch on has yet to be decided.
Mr Perez said: "We have a system of reservations and limits on the amount of people who can use our beaches that mean we have the safest beaches in Europe.
"The pre-booking system is going to be activated from midday this Thursday.
"People will be able to book their spot on the beach for the following day so this Friday will be the first day beachgoers will have had to use the system to be able to access the beach.
"The system will only be implemented from Thursday at midday for Levante Beach where some problems in terms of people being able to enjoy the beach as they should, have been detected.
He added: "Last weekend and on Saturday especially more than 29,000 people were on our beaches.
"Controlling the amount of people on the beach is a legal obligation and we want to make sure as many as possible can enjoy sunbathing and swimming as possible during any one day."
Tourists have to stay within one of 5,000 13x13ft squares marked out on its beaches – colour-coded blue for general use or red for the over-70s who have their own areas.