Donald Trump hosted a crowded Independence Day celebration at the National Mall in Washington yesterday, he did not wear a mask despite evidence that facial coverings can help to mitigate the spread of the coronavirus, and blamed China and its "secrecy, deceptions and cover-up" for the global spread of COVID-19.
"Kung Flu" came from China- Donald trump
China must be held "fully accountable," said the President, adding without any evidence that the U.S. would have a treatment or a vaccine for the virus "long before the end of the year."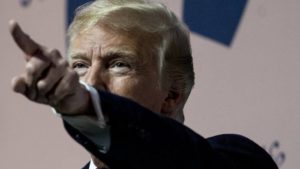 Continuing to ignore the advice of scientists and public health experts who've urged Americans to remain socially distanced as COVID-19 cases continue to surge nationwide,
Trump added that the U.S. has tested nearly 40 million people for COVID-19. This effort "showcases, 99% of which are totally harmless," he claimed without evidence, again!
In a live address, Trump received a round of applause when he said China was to blame for the Pandemic. Video credits- Aaron Rupar- Twitter.
People actually applaud after Trump mentions that "we got hit by the virus that came from China" pic.twitter.com/uXhSwsd4Ke

— Aaron Rupar (@atrupar) July 4, 2020



The U.S. reported more than 2.8 million coronavirus cases and almost 130,000 deaths to date, which is a fatality rate of about 4%.
The large gathering came as global cases of the coronavirus surpassed 11 million and as a majority of U.S. states still grappled with a surge in infections.
Some leading members of Trump's own coronavirus task force urged Americans to avoid crowds over the holiday weekend.
"You should avoid whenever possible gathering in crowds where people cannot maintain physical distance," Dr. Anthony Fauci, the nation's top infectious disease expert, said earlier this week. "Avoid crowds, wear a mask, keep a physical distance. It doesn't matter what the reason for the congregation, whether it's a celebration here, the demonstration there. It doesn't make any difference — wear a mask."