THE Andalusian Government has provided the Nerja Town Hall with 45 personnel to be employed as beach assistants during the summer and an allocation of around €56,000 for certain materials that will provide security in the areas of the coast.
The delegate of the Government, Patricia Navarro, together with the mayor of Nerja, José Alberto Armijo, has presented the project for ´Playas Seguras´ launched by the Board "to provide greater safety to beach users and tourists in this coronavirus health alert, but also to create employment ".
The Board aims to "intensify and strengthen the protection of residents on Malaga's beaches against possible COVID infections, and we want them to be the safest beaches in Spain."
Similarly, the delegate believes that tourists "who have always come to visit our areas should continue to do so, whilst maintaining the use of masks, distances and hygiene if we want to enjoy, in a different way, our beaches this summer "
For this, the Board has reinforced the plans of each Town Hall with the hiring of 902 beach assistants, in charge of informing and advising bathers and coordinating with the authorities if necessary.
Almost 24 million euros have been planned for the training and hiring of more than 3,000 beach assistants, of which, a total of 45 are distributed throughout the 17 beaches of Nerja for this purpose.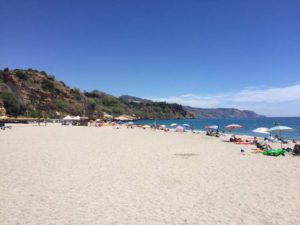 Torrox will also have 30 auxiliaries to assist on beaches along its more than 9 kilometres of coastline.
Thus, the municipality has already purchased new vehicles, such as a pick-up, a 4×4 quad and a jet ski with trailer; It will also have 16 rescue tubes, 12 water rescue cans, and ten lifebuoys.
10.5 million euros have been earmarked to contribute to improving security throughout the Andalucian coast, half of which is to provide towns with the resources and materials that guarantee this security.