Sanchez wins again
LAST Wednesday, June 24, the "new normal" decreed was passed by congress and Sanchez's party received an overwhelming majority of votes. Surprisingly, the main opposition party, PP, voted in favour along with Ciudadanos who have recently backed the PSOE in key situations, for example, the State of Alarm.
As this is something that PP would not normally do, it has angered the Catalan parties who voted him into his position.
However, due to these two parties backing Oriol Junqueras, the leader of the Republican Left (ERC) who is currently serving a 13-year prison sentence for sedition, he now holds the key to Sanchez's continuation in the government.
You may remember that ERC actually voted against the decree as a stab at the PP.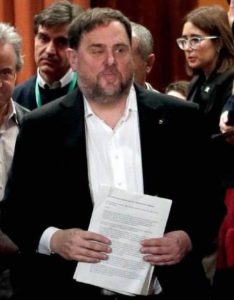 Outbreaks
The recent outbreaks in Spain, have worried some, especially those in the northeastern region of Aragón which have forced regional authorities to take a new step back in the de-escalation process
It should be noted that those outbreaks in Huelva and Huesca are suffered by groups of fruit pickers who have travelled from Eastern countries and Africa to work the jobs that Spanish residents will not.
These pickers have been living and working in very poor conditions, they always do, social distancing rules are not always respected and many of the workers live in overcrowded homes where it is also difficult to maintain safety measures. The government has finally, and only, now taken notice of this due to the ongoing health crisis and fears that they would now have a multitude of deaths on their hands.
These politicians have said the workers must not live in these conditions and have arranged with the local town halls to rehouse them in sports arenas.
Again, it brings the question, why have these people had to wait so long for actions to improve their life. Did the politicians not value their lives before now?