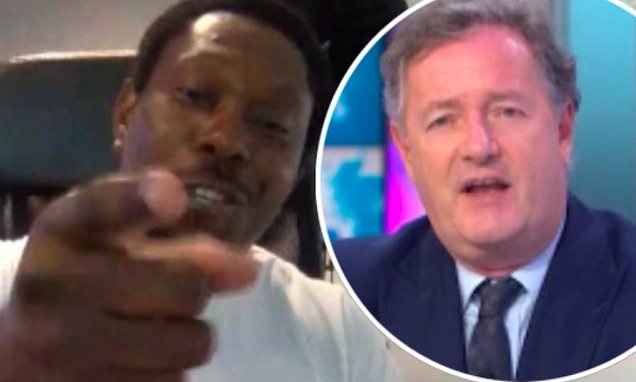 Dizzee Rascal has won praise for shutting down Piers Morgan when the controversial presenter attempted to question him on Black Lives Matter.
THE 35-year-old rapper, real name Dylan Kwabena Mills, was appearing on Good Morning Britain to discuss his recently announced drive-in concert tour.
The innovative tour will see Dizzee perform in front of audiences in their cars, with groups being allocated small areas to dance beside their vehicles.
After Dizzee spoke enthusiastically about the plans, Morgan, 55, changed the topic and asked him for his views on the Black Lives Matter movement.
Dizzee replied: "What makes you think I know? Am I the black spokesperson? I've got a bunch of views but now is not the time."
When Morgan pushed him for an answer, Dizzee reminded him: "I'm here to talk about the Drive-In.
"I've got my Afro out so I know that may be why you're asking the question but…"
"You're a high profile black man in this country and it's a huge issue and has been for the past four weeks," Morgan replied, prompting Dizzee to call him out.
"I've watched you on telly and you never let no-one speak," he said. "You're not going to do that to me mate, not this morning. I've got a bunch of views but right now is not the time.
"We're here to talk about this wonderful thing where people can go in their cars and rave together regardless of their colour, creed, age or size."
Morgan remarked: "He reacted very aggressively to a polite question," to which Dizzee replied: "This is what happens as well, I've become the aggressive black man.
"I'm not going to say anything I'll just p*** ff both sides."
Morgan's co-host Susanna Reid then apologised for the rapper's choice of language as viewers praised him for taking the presenter to task:
Dizzee's drive-in shows will take place at venues across England and Scotland, with a London date – in a venue yet to be announced – taking place on Saturday, August 22.