After helping to pave the way for women on the force, Cartagena's first female Local Police officer completed her last shift today.
MARI CARMEN GARRIDO joined the police in 1980, and after 40 years serving the Cartagena community, her colleagues gathered to say goodbye.
She said: "I did not expect to cry nor this farewell from my colleagues, I am seeing that they appreciate me and they will miss me, just as I will miss them. In the end it is a whole life together."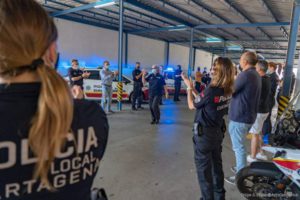 Councillor for Public Safety, Juan Pedro Torralba, highlighted the retiring officer's great career, and said she is "very much loved by her colleagues" and had seen many changes in the force.
She has also pointed out that "the first steps taken by Mari Carmen to become the first female police officer in the town have been joined by more women over the years."
Cartagena Local Police force, which has a staff of around 300, has about 20 female officers.
Head of the town's Local Police, Emilio Juan Rodríguez, fondly remembered his colleague's "sense of responsibility," both towards the public and in "the organisational and operational part of the 092 room."
He joked about her capacity to adapt to technology, "since when the incidents began they were still being completed on paper with an Olivetti typewriter."
Mari Carmen said she wanted to be a police officer like her father, and 40 years ago was the only successful female applicant among 65 hopefuls.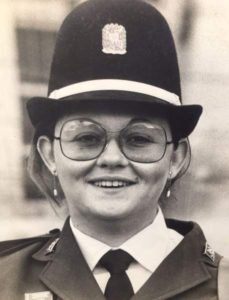 Within the Cartagena Local Police, Mari Carmen has worked in different sections such as public safety, patrols, tours and in the 092 radio station room.
"All the services are special and unique, and bring relief and benefits to those in extreme and other situations," she said.