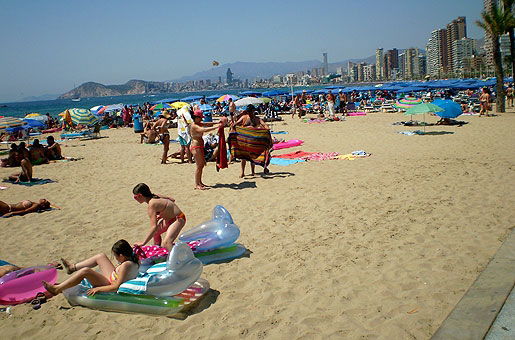 Benidorm's beaches on Spain's Costa Blanca, favourites with expats and holidaymakers alike, look set to be open for the summer as the town hall announced a project to get them back in play before July.
ACCORDING to the de-escalation time frame set by the Spanish government the last stage should end on June 21, at which time Benidorm Council intends to have its beaches – which attract 40,000 daily at the height of the season – open.
Mayor, Toni Perez, said one of the ideas on the table is to control the capacity so that social distance can be guaranteed.
The council is looking into the possibility of dividing the beach into different sectors that will make it possible to avoid contagion, "by providing sufficient space for the number of people admitted at that time," Perez told Alicante Plaza.
He said "it should be noted that the beaches gather some 40,000 people on the busiest days, 25,000 in Levante (where there is more tourist accommodation) and 15,000 in Poniente."
But Benidorm has ruled out installing screens to divide plots, arguing heat and lack of a breeze "were sufficient factors to discard this idea":
In addition, it would be difficult to keep up health and hygiene standards from day to day.
Perez reminded of the different stages of the deconfinement which allows up to 10 people to meet in the same house in phase one, "without taking into account the size of the home, but keeping the distance."
"This is something that leads to confusion in the decision-making process," he added.
The beaches of Benidorm have been closed since the State of Alarm was declared, and while some nearby municipalities have reopened theirs, Benidorm is sticking to its guns.
Perez said one of the main reasons is the fact its two largest beaches are urban, and therefore close to "a large population who would enter within a 1km radius."
The mayor estimates that had the beaches been reopened earlier, 10,000 children could have gathered in the sands with their respective parents, "something that in the first week we have preferred to avoid."
While in other areas, such as the Cala de Benidorm, there would be less use, the council did not want so lift the veto for some and not others.
As of yesterday, individual sport and walks are allowed in the Parque de la Séquia Mare and the Parque de Elche.
And access to Mal Pas beach has been granted for Benidorm's federated swimmers.