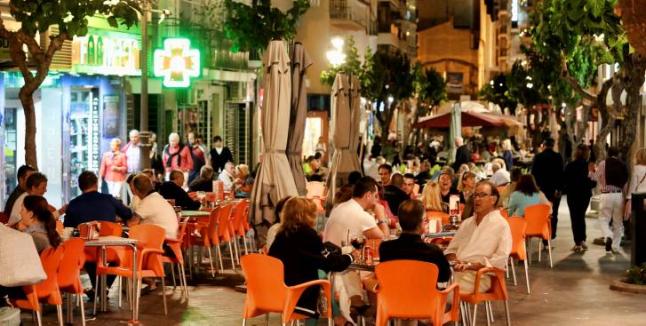 Benidorm's Association of Bars, Restaurants and Cafes (Abreca) is calling for the Spanish government to follow France's example and negotiate rents during the Covid-19 crisis.
IT argues current restrictions during de-escalation – which means businesses can only open up 50 per cent of their outside space – are not viable meaning most will stay closed.
President of Abreca, Javier del Castillo, told Europa Press, the association has called for measures to open the terraces to their full capacity, as well as 70 per cent of inside space.
They also want an agreement with the government to negotiate rents, "as has been done in France where during the Covid-19 crisis, they have not had to pay the rent of the establishments."
The group said the vast majority of its members will not open their doors in Phase one of de-escalation with terraces at 50 per cent occupation.
"Our premises are closed but we continue to pay rent and it is a lot of money as the taxes will be added when we open. We will have a huge debt," he added.
Del Castillo said the problem with only half occupation lies in mobility, mainly international, pointing out "until October we do not think we will have international tourists."
He added that "we will have local and national customers, depending on the areas where they are allowed to leave, but until we have enough people we cannot open."
For this reason, he said either things "go back to the routine of before" or it will be very difficult for the sector to move forward because "we are an area that operates on the basis of customers and tourists."
In addition, he said "there will be a lot of staff that will have to stay on ERTE and we will not have the capacity to hire employees to get them out of unemployment."
In protest, Abreca has joined the campaign 'Se Traspasa' initiated in other parts of Spain by catering groups who feel "abandoned to their fate" by the government.
Many bars and restaurants in Benidorm have a 'Se Traspasa' sign on their doors to warn of the wave of business closures if their demands are not met.