A FIRE which broke out in Adra's Las Albuferas Natural Reserve on Sunday lunchtime was extinguished by last thing at night.
📹 El fuego en la Reserva Natural de Las Albuferas de Adra ya ha sido extinguido gracias a la rápida acción de Protección Civil, Infoca y Bomberos del Poniente. En esta labor de extinción se ha contado, además, con la maquinaria de Servicios Municipales y con la vigilancia de la Policía Local y la Guardia Civil. Los trabajos de enfriamiento de este incendio, cuyas causas se desconocen hasta el momento, seguirán durante las próximas horas.




Zveřejnil(a) Ayuntamiento de Adra dne Neděle 5. dubna 2020
Civil Protection volunteers were the first to get to the scene of the blaze, the local council reported, shortly followed by Poniente fire brigade and Infoca firefighting teams.
They had the flames under control by about 4pm and completely out by around 11pm.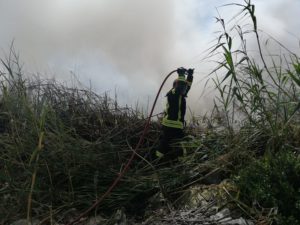 The fire affected around four hectares of undergrowth.
The causes of the blaze are under investigation.