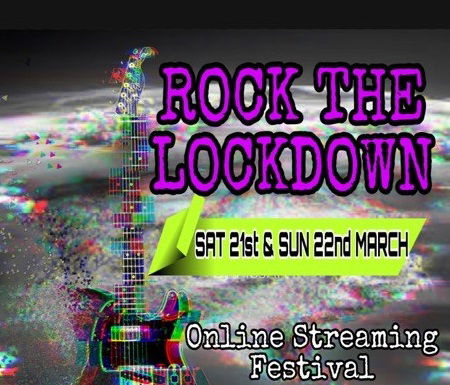 ONE OF THE COASTS MOST POPULAR DUO`S "ROCK OF THE AGES" – OLLIE HUGHES AND LUCY PARDOE- ARE STAGING WHAT IS GOING TO BE THE BIGGEST ONLINE STREAMING MUSIC FESTIVAL EVER TO BE STAGED IN SPAIN.
In an exclusive interview this morning with the very talented Ollie Hughes and his partner Lucy Pardoe, I quickly realised that what started off as an idea to bring some happiness to everyone on the coast in these dark times is suddenly turning into a worldwide event!
The live event, which will be streamed from Facebook from 3.0pm this Saturday has so far attracted over an incredible 10,000 hits, the "dynamic duo" are more than just "a little overwhelmed" over the figure but at the same time extremely happy over the interest in the event.
Ollies' idea was to "entertain the masses" in the lockdown period and he literally did not expect this response. In fact, the one and only Bob Geldof ( he doesn't like the "Sir" bit)  liked the "Rock the Lockdown " page, Midge Ure has also been contacted by Ollie, you never know…

Ok, here is how it will run, each set will be 15 minutes long and could include 3 or 4 songs and anyone can enter, so far over 100 acts have registered so hurry if you want to join in.
There will be a "running order" put up on the Facebook page, Rock of the Ages will kick off the event which will also take place the next day, Sunday the 22nd.
There are DJs, Rock Bands from Australia, Switzerland, and the USA. UK bands will also be streaming live from their shows, with original artists expressing an interest in performing.
It's sure to be a fantastic weekend, just sit back and enjoy yourselves and remember that the vast majority of entertainers on the Costa-del-Sol have no income for at the least the next few months, they deserve our respect and admiration for giving their time and talent for free and just for you!
Thanks to Ollie and Lucy of course because without them this would not be happening, brilliant, thanks from everyone at EWN, ROCK ON!