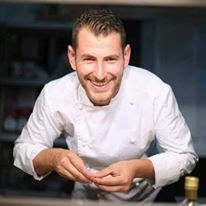 Chef Joffrey Charles will be providing a simple recipe every day, with the provisions available during the lockdown.  Joffrey is the owner of Catering By Joffrey and previously owned Joffrey's fine dining restaurant in La Cala.  He features regularly on Channel 4 in the popular program "A New Life In The Sun".
There were a few French swear words flying around yesterday when Joffrey came back from his once a day shop.  He went to Lidl in Calahonda and there was no poultry and no meat.  He proceeded to Supersol in Calahonda where there were more supplies.  Upon his return, he commented sniffily "I now have to cook under wartime measures but c'est la vie" with a shrug of his Gallic shoulders.
I posted that we had Tuna A La Creme on Facebook and friends commented "what about doing a dish a day and we aren't talking about men in uniforms" and "that sounds gorgeous I will have that tomorrow".
This was the first time I tried it and it couldn't be simpler.  It's Joffrey's french mother's recipe, he has 7 siblings so you can understand why he ate it regularly.
Tuna A La Creme
Ingredients are baby new potatoes, creme fraiche, and canned tuna
Boil the baby new potatoes, then dice them into cubes and add in one pot of creme fraiche and one can of tuna. Simply delicious and nutritious.