AS the national Government declared a 15-day state of alarm to bring the spread of the coronavirus under control, the Euro Weekly News spoke to Costa Almeria residents, visitors, workers and business owners in Mojacar to get their views on how the authorities are handling the crisis and the drastic measures which have been introduced – notably the restrictions on movements – the best way to cope with what for many is a difficult and scary situation, and their main concerns.
Tammy Sebire lives in Scotland and was planning to get a ferry from Bilbao back to the UK on Thursday. Tammy does not agree with all the government imposed restrictions.
"I think the whole world has gone completely mad and it's all just media hype. The beach ban just seems completely ridiculous", she told EWN.
Her friend Paula Jeeps agrees. Paula and her husband have sold a property in France and are renting an apartment in Mojacar until the end of April with a view to buying a home in the area.
Although she is disappointed it is not possible to go onto the beaches, commenting, "I do find that really silly", she said they plan to enjoy the next six weeks and "just carry on with the G&Ts!"
Carol Fisher, who spends six months of the year on the Costa Almeria and six months in England, looks at the movement restrictions and imposed business closures differently, despite the question marks about whether she and her husband Allan will be able to get back to the UK from Santander next month as planned.
"Knowing what's happened in Italy they should have done it sooner. I think it's the only way to stop it."
Carol is not daunted by the "enforced staying in" for a fortnight though.
"If you've got plenty of hobbies it's not a problem. I make jewellery, I do knitting, I do painting, so I'm quite happy to do that on my balcony. I'm just hoping I can get access to basic necessities, like water and bread."
Allan told EWN that neither of them are especially concerned about picking up the coronavirus.
"We're over 70, but we're in quite good health I think. We don't have any underlying chest problems or anything like that, so it's not a big worry."
Unlike Carol though he is not very happy about having to stay at home given his hobby his bird watching: I'll be stuck in, and I like to get about a bit, so yes, it'll be an inconvenience."
One issue Carol and Allan did raise was dog walking, and whether that was going to be difficult.
Geraldine and Brian Jones are in their eighties and like the Fishers are 'swallows', spending the winter on the Costa Almeria and the summer in the UK. Geraldine said her main concern is not knowing how long the coronavirus crisis is going to last and whether they'll be able to go back to England in April or May or will be "trapped" in Spain
Louise Pallett, who has lived in Mojacar for 18 years, is another who believes the restrictions are necessary, especially for the elderly, describing the current situation as "quite a shocking experience."
"I'm in my sixties, so I don't feel I'm at risk, but obviously we've got to obey the rules which Spain is giving for us to isolate ourselves from getting contaminated: not kiss each other, wash our hands, be careful of who we mix with, and if we do have to stay indoors, then we have to stay indoors."
One of Louise's main worries is the PAWS-PATAS animal charity shop which she runs in Las Buganvillas in Vera, telling EWN, "We don't know whether we're going to be allowed to stay open, because our money keeps the animal shelter going."
Inma Marin Sarabia is co-owner of a Mojacar Playa hair and beauty salon. Despite what the lockdown means for her business, Inma does think the measures are necessary due to the rise in coronavirus cases. She said she will be staying at home while the state of alarm lasts and staying calm, criticising people who are panic buying in the supermarkets.
The owner of Mojacar Playa eatery Badger's Jenna Mincheva is resigned to having to close the doors to her business, commenting, "there's nothing you can do: there's no other option.
"I totally agree with what is being done", she tells EWN.
"Let's stop in now: safe before being sorry."
Nevertheless, Jenna points out that despite trying to cook and freeze produce, they will inevitably have to throw away a significant amount of products as they won't last: "you spend a lot of money and now it's just going in the bin!"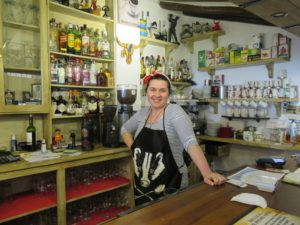 One of Jenna's customers before the lockdown was Jackie Bevan from Surrey. Jackie flew into the Costa Almeria from England first thing on Saturday morning for her father's birthday celebrations and was supposed to be returning to the UK on Tuesday. She is retired, so does at least not have to worry about missing work, but is anxious about not being able to be with her teenage daughter. Meanwhile her brother, who has also come over to Mojacar, is an asthma sufferer and has concerns about being infected with the virus, and says he wants to be back in England where he knows the NHS.
"We don't know what the healthcare situation here is going to be if he does contract the virus", she commented.
"But what we're trying to do is just keep calm and carry on and take one day at a time."