TWO young men suffered serious burns when a fire broke out in in the early hours of Thursday morning in a slum area of San Isidro in Nijar.
The emergency services evacuated the victims, both Moroccan nationals, to the Torrecardenas hospital. They were subsequently transferred to the serious burns unit at the Virgen el Rocio Hospital in Seville.
Witnesses told the Guardia Civil that the blaze had been set off by someone mishandling a gas canister, which caused an explosion.
The Guardia reported that a patrol headed to the district following alerts to the emergency services of a situation is the zone. At first sight there was there was nothing out of the ordinary, but within minutes of taking a look around it was clear there was a fire in one of the shacks.
At this stage an individual emerged from the dwelling with burns on his face and extremities, before passing out on the ground. Officers got him to a safe position and called for emergency health assistance.
At the same time, neighbours warned officers that there were more people inside the shack.
Avoiding the flames and dealing with the smoke, as well as negotiating their way past illegal connections to the power supply, the officers went in and discovered a burning gas canister. They managed to douse the flames and get it outside in order to prevent further explosions.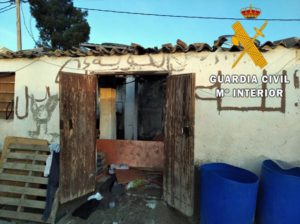 With the help of another patrol which had arrived by this time the Guardia evacuated 40 people, including children, from their homes as a safety precaution. This was when they came across the second victim with burns all over his body. They immediately requested urgent medical assistance.
A perimeter was set up around the zone, and vehicles and dangerous objects were removed.
Firefighters extinguished the fire after checking there were no further victims.