FUENGIROLA TOWN HALL ANNOUNCES PAINTBALL EVENT FOR THE YOUTH IN COSTA DEL SOL
YOUTH Councillor of the Fuengirola, José Manuel Martín, has announced a Paintball day that will take place on Sunday, March 29 in Antequera.
"The Youth Department is going to take a trip to Antequera for a paintball day, an activity that in previous editions has been in great demand by young people", explained Martín, "the price is very affordable, at €10, with the round trip bus journey included a three-hour paintball day with 300 balls, plus all the necessary equipment: helmet, jumpsuit and pads, in addition to the activity insurance ". He went on to say that "it is an activity aimed at young people from 16 to 35 years so that those under 18 must provide the authorisation of their parents to participate."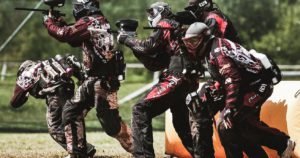 In order to register, you must send an email to youth@fuengirola.org. If you receive a reply you will be admitted and can then go through the Youth Department to pay the €10 and reserve their place. The departure to Antequera is scheduled at 9 a.m. in the morning from Mercacentro and the return around 2 p.m.
Paintball is a semi-sport activity that consists of a battle of paintballs between participants dressed in military clothing, helmet and face protection and in this case, the terrain where it will take place has the cover many bushes, which recreates a battle that is loads of fun.