Fatal Traffic Accident involving a Truck on A-357 highway in Pizarra, Málaga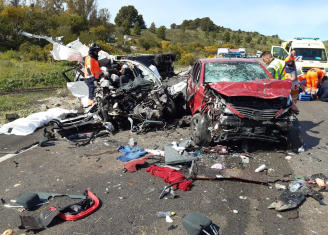 The collision between a truck and two cars has resulted in a fatality with two more individuals highly injured in the municipality of Pizarra, in Málaga.
 The two people injured were transported to the nearest hospital via helicopter. The accident involved a large collision between a truck and two cars at around 11.30 on the kilometre 42 of the A/357 highway and affected both carriages.
 The traffic branch of the Guardia Civil, the firefighter and civil protection officers, as well as medical services all rushed to the scene after receiving the 112 call.
According to sources which aided with the rescue of the victims, the deceased was the driver of the car who was the father of the female passenger, who is also highly injured.
 The other gravely injured individuals were part of the second car involved in the crash which was circulating behind.
 All sources agree that the truck could have avoided the collision by invading the opposite lane, they also concluded that the car was broken in two.