A RECORD number of El Bandido Runners met on the Mojacar seafront promenade on Saturday to celebrate International Women's Day.
There were 70 runners, joggers and walkers covering the five kilometres, along with several dogs! This broke the group's previous turnout record of 43 on New Year's Day.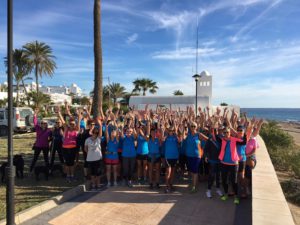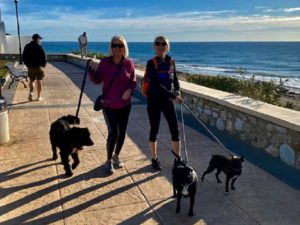 A collection after the run raised €45 for the PAWS-PATAS animal charity, the cause currently benefitting from the voluntary donations made at the weekly runs.
Saturday's meet was a 'reverse' run, starting at the Red Cross roundabout end of the promenade followed by post-run refreshments at a local cafe.
Ultimately, El Bandido Runners would like to gain official 'parkrun' status; at the moment there are no parkruns in Spain.
El Bandido Runners is a local group, set up by Ironman Kevin Rowe in June 2018. The group started with a small number of regulars and has grown with runners, joggers and walkers, who are permanent residents, regular visitors and holidaymakers, covering the five-kilometre Mojacar Playa promenade.
The group welcomes all ages, nationalities and speeds. If you are interested in joining go along on Wednesday and/or Saturday at 9am from October to April and at 8am from May to September.
The meeting point is opposite the Best Indalo Hotel on the Paseo del Mediterraneo, apart from on the first Saturday of each month when they meet at the Red Cross roundabout end of the promenade to be nearer to the monthly post-run breakfast chosen cafe.
For more information about El Bandido Runners contact Kevin on [email protected] or follow them on Facebook https://www.facebook.com/pg/elbandidorunners.