The Spanish property market along with the Airline, Hotel, and Tourist Industries are facing turbulent times according to a recent survey.
Scaremongering? let's take a look at the facts:
The outbreak in Spain of the Coronavirus
Cases of coronavirus in Spain have increased to 171, with both the islands and the mainland affected. This is keeping tourists and visitors away and due to lack of demand Airlines have cancelled hundreds of flights and laid off workers.
The current advice from the Foreign Office states: "There is an ongoing outbreak of coronavirus (COVID-19) in China, but cases have been confirmed in other countries, including Spain.
"You should comply with any additional screening measures put in place by the authorities."
Tourist numbers
The backbone of the Spanish economy-Spains Tourist Arrivals Fall 1.4% in January.
Real Estate
Employs thousands of people and generates millions in Taxes-Real Estate Agencies report a slowdown as Home sales fell 18.6% in June and 20.8% in July, according to the Association of Spanish Notaries.
The Spanish Stock Market
The Main indicator-The IBEX 35 decreased 747 points or 7.71% since the beginning of 2020, according to trading on a contract for difference (CFD) that tracks this benchmark index from Spain.
The 2008–2014 Spanish financial crisis, also known as the Great Recession in Spain or the Great Spanish Depression, began in 2008 during the world financial crisis of 2007–08. The main cause of Spain's crisis was the housing bubble and the accompanying unsustainably high GDP growth rate.
These are all "Prime-Indicators" meaning they are recognised to have a major impact on a country's economy. All we can hope for is that virus eventually naturally filters out, but that is months away, as announced this morning, Chinese Scientists have discovered there are actually TWO strains of the virus infecting people. Seventy percent of people get the stronger version.
Spain has one of the highest unemployment rates compared to other OECD countries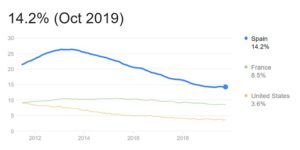 One thing is for sure, it is already affecting us here on the Costa-del-sol, bar owners are asking where the tourists are, a couple of friends of mine cancelled trips to Venice and Malta and a local musician due to fly over here last week cancelled on Doctors orders.
Let's hope the Spanish Government has a "War Chest" of money ready, there are going to need it…