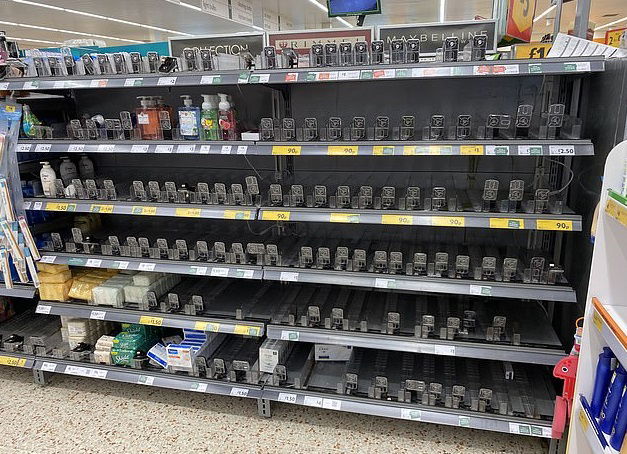 UK Supermarket shelves cleared as shoppers stockpile essential goods amid virus outbreak
As people have begun to stockpile items, some supermarket shelves are being emptied amid fears the coronavirus outbreak could force stores to limit their supplies. Household goods such as hand sanitiser and pasta are the worst hit despite authorities insisting it is not necessary to panic buy.
In Britain, where cases have surged to 53, the frenzy has seen empty shelves in some Tesco, Sainsbury's and Asda branches for items including bottled water, pet food, toilet roll and milk, some pharmacies have run out of ibuprofen and vitamins.
So far the Costa-Del-Sol Spain has not experienced this but its only a matter as time as news cases of the virus are reported on a daily basis.
Boris Johnson is set to unveil "battle plans" today for tackling a potential outbreak, expected to include steps to limit the spread within crowds and to older, more vulnerable people.
"The most important thing now is that we prepare against a possible very significant expansion of coronavirus in the UK population and that is clearly on the cards," the prime minister told the BBC on Monday. Matthew Hancock, the health secretary, said that Britain may follow the lead of "European countries at more advanced stages of an outbreak," adding: "All options are on the table."
It's worldwide, even Woolworths in Australia has applied a four-pack limit to purchases of toilet paper as panic buying sparked by the growing coronavirus crisis empties supermarket shelves of household staples.
Australia's largest supermarket retailer will also apply a two-pack limit on purchases of hand sanitiser when products, which have been out of stock for almost a week, come back into stores. Woolworths will sell hand sanitiser from its service desk, rather than from the shelves, to enforce the limit.