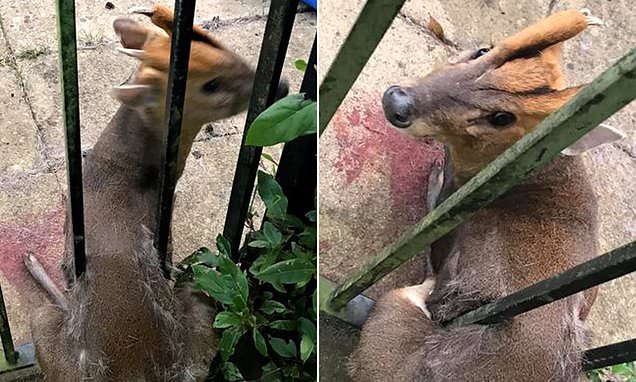 An RSPCA officer was able to free a distressed deer from a metal gate by covering the animal's fur in washing up liquid. 
The animal was trapped after in the metal gate after it tried to leap through a six-inch gap between two metal railings at a house in Sutton Coldfield, West Midlands.
Animal collection officer, Catherine Strawford, helped the deer out of its pickle in just 20 minutes.
She rubbed the deer with washing up liquid while working on the other side of the gate. She carefully rubbed both sides of the deer to try and lift it and move it backwards, whilst also trying to keep the animal calm.
The moment an RSPCA officer used washing up liquid to save a trapped deer in Sutton Coldfield 🦌👏




Read more 👉 https://t.co/2L2v7AZIPC#MondayMotivation @RSPCA_official pic.twitter.com/xDpsEyVnZr

— ITV News Central (@ITVCentral) March 2, 2020



The RSPCA were alerted of the situation by passersby, who had noticed the muntjac bleeding at around 3pm last Wednesday. It is believed that the bleeding was caused by friction burns as the deer attempted to free itself.
The deer was freed in under 20 minutes, Strawford cleaned its wounds and it bounced off back into the wild.