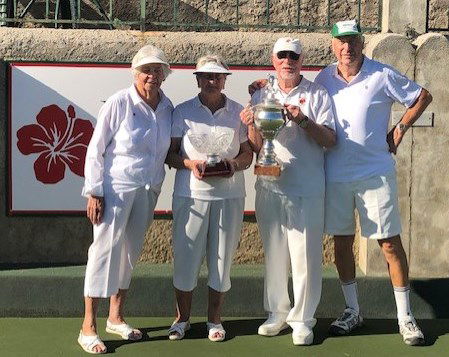 LAST week saw the climax of any club's bowling season, the Men's and Ladies' Singles, take place and Miraflores Bowling Club were blessed with delightful weather throughout.
Both competitions were well supported and some excellent matches led up to the finals. In the Men's competition Malcolm Dare was up against Derek Carr and in the Ladies' final Nancy Shaw played Pam Kinane. A large crowd had gathered to watch what were anticipated to be closely contested matches.
In the Men's Final Malcolm started slightly better but the scores were level at 4-4 after 8 ends then Derek picked up 6 shots over 2 ends to establish a cushion. The match then ebbed and flowed with Derek leading 14-10 after 16 ends. Then Malcolm, despite bowling superbly was becalmed, while Derek playing the game of his life edged forward finally winning out 21-11 after 23 ends.
The Ladies Final unfolded in a similar fashion with Nancy holding the early advantage but Pam fighting back to hold the lead 11-8 after 11 ends. Again the initiative switched back and forth with Nancy creeping in front to lead 18-14 after 19 ends. Nancy then played a couple of stunningly accurate ends to run out the winner 21-14.
All were agreed that the scores were not reflective of the quality of bowling observed but that Nancy and Derek were very worthy winners and that from a spectator's perspective they had witnessed two of the best finals they had seen.
In her speech when making the presentations after the final Club Secretary – Carol Frost praised the quality of play and congratulated Nancy on her third victory and Derek on his fourth, she thanked all those involved as participants, markers and spectators along with Heather behind the bar.